Google I/O Day 2 Keynote wrap-up Part 6: Samsung & Acer Chromebooks Ship June 15
Chromebooks June 15. Bam.
Published Wed, May 11 2011 2:47 PM CDT
|
Updated Tue, Nov 3 2020 12:31 PM CST
This is what we've all been waiting for- everyone watching this keynote wanted to hear about the Chrome OS Netbooks, now dubbed "Chromebooks". All morning, Sundar Pichai has been speaking briefly before turning it over to various other Google reps, but the last part of today's keynote was his time to shine. He had the good fortune of being able to announce to the world that Google Chrome OS Chromebooks will be shipping June 15 of this year. Seeing as how my birthday is a mere month after that, I might be preordering....now. Daddy needs a Chromebook.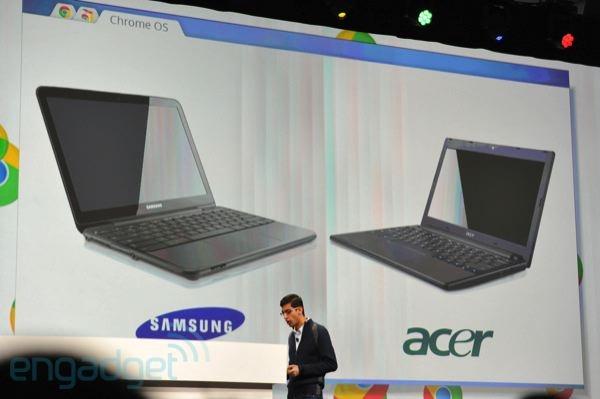 Also, I wasn't lucky enough to be in the audience when Pichai announced that everyone in the audience was getting a voucher for a free Chromebook. Bastards! At least they still have to wait for June 15 like the rest of us though. These lucky people, and the rest of us who will shell out the dough for these devices have, as of right now, two choices (seen above), Samsung or Acer.
The Samsung Chromebook has a 12.1", 300-nit display, with an 8-hour battery, headphone jack, built in Wifi, and 3G available from Verizon, who will undoubtedly brutally rob us on data packages. Pichai noted that it came in "two colors" (2nd big Apple stab!) to the delight and laughter of the audience.
The Acer Chromebook is a bit smaller, with 11.6" display and only 6.5 hour battery, but it has a full keyboard (not sure what this means for the Samsung- does it have a half-keyboard?), but I'm sure some of Acer's partners will do some cool stuff with this model. Speaking of cool stuff, Pichai added to much whooping and hollering:
We want to make sure you can jailbreak these devices and play around with the kernel as much as you want.
They are instantly jailbreakable people! Both have Intel dual-core processors, and everything on it exists on the web and in the cloud. Samsung is $429 for Wi-Fi, $499 for the 3G, and the Acer starts at $399- Pichai seems to be implying that there will be mods and purchasable feature upgrades, as with most PCs. Americans can order them through Amazon or Best Buy, and residents of France, Germany, Spain, UK, Netherlands and Italy (What, no Benelux? They get the white iPhone 4 first but they're not good enough for a Chromebook?! Mon Dieu!) can order through....whatever you guys use over there.
More info
here
Related Tags