Google I/O Day 2 Keynote wrap-up Part 5: Chrome OS
Chrome OS, on and off the web, is very useful.
Published Wed, May 11 2011 2:18 PM CDT
|
Updated Tue, Nov 3 2020 12:31 PM CST
Koblin relinquished the stage to Sundar Pichai once again, and he began with the following:
People spend all of their time on the web, within a browser. That's why we created Chrome OS.
I think this was the moment as the Keynote was nearing its finish that everyone in the audience started to get very, very excited. We've all been waiting for word on Chrome OS netbooks after the CR-48 pilot program was announced six months ago. Of course, Pichai referred to it this part of the speech as a "Chromebook". Awesome. Pichai invites Kan Liu to the stage, who demos some of the new features of Chrome OS when it comes to multitasking.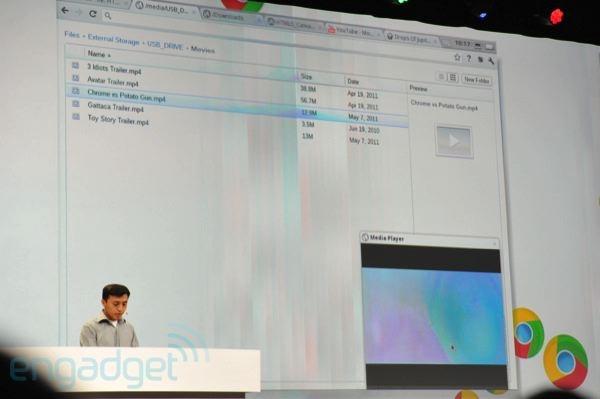 He shows off playing videos and songs in Gmail that don't interfere or complicate the UI or UX using "instant pull-out boxes". He plugged in a micro-SD card, which means that Chromebooks are going to have added data capabilities for information storage like photo, music, and video. Not that you really need one with things like Google Music Beta and Google Movies, the renting service announced yesterday. Not that Chrome OS won't work with things like Netflix, Hulu, etc.
Oh, and:
CHROMEBOOKS ARE SHIPPING JUNE 15 2011
Related Tags