Google I/O Day 2 Keynote wrap-up Part 4: Three Dreams Of Black HTML5 With Dangermouse
Trippy WebGL experiment shown off during Keynote.
Published Wed, May 11 2011 2:03 PM CDT
|
Updated Tue, Nov 3 2020 12:31 PM CST
After Peter Vesterbaka of Rovio left the stage (tough act to follow), Aaron Koblin of the Chrome team got up and showed everyone some pretty amazing HTML5, javascript and WebGL demos using the new and improved Chrome. The project, called Three Dreams of Black, is a musical mixed-media compilation similar to the work that Arcade Fire had previously done wth HTML5 and Chrome in the past. This particular project was directed by Chris Milk and uses music from DJ Dangermouse's newest collaboration album, called RO.ME.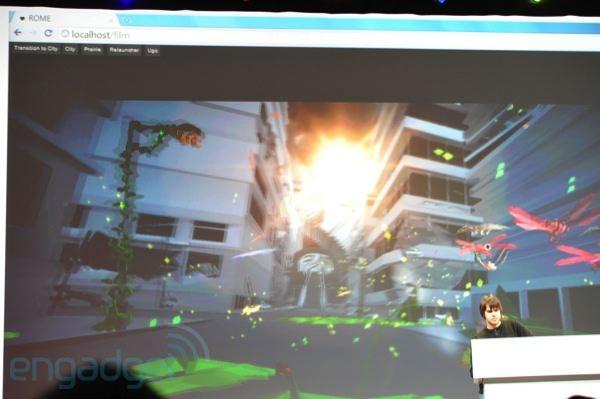 This is one of the trippiest things I've seen in a while. The music is great (as expected), and the 3D rendered environment is completely navigable and customizable. There's even a bit of a narrative in the experience that you can follow, but honestly the visual effects are so engaging that it could have as much narrative as a Blue's Clues episode and you'd still be enthralled. Dragging the mouse around the experience not only shifts perspective but creates all sorts of cool stuff in real-time, while watching.
I'm literally painting with geometry. I'm painting with shader effects.
New animals spawn, grass grows on the sides of buildings, a swath of rippling black cuts across a landscape (yet devoid of sinister intent). Amazing. You can even go into the back-end of the experience and customize the various models, including building your own. It's, once again,
all open source
!
More details in the near future.
Related Tags