Google I/O Day 2 Keynote wrap-up Part 3: ANGRY BIRDS FOR CHROME
Angry Birds hits Chrome, web, with exclusive Chrome levels. Free right now!
Published Wed, May 11 2011 1:39 PM CDT
|
Updated Tue, Nov 3 2020 12:31 PM CST
Peter Vesterbacka, CEO of Rovio, the firm that gave us the most popular mobile gaming application of all time, got on stage at Google I/O today and told everyone exactly what they wanted to hear:
We wanted to bring Angry Birds to the web for a long, long time, but we didn't want to compromise performance. We aren't making fish in a bowl -- it's all about Angry Birds. Really, really Angry Birds. We've been so angry, because we've never been able to bring Angry Birds to the web.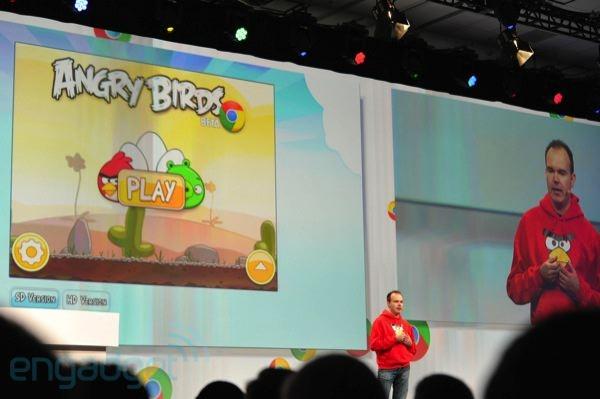 As we
already told you
, Angry Birds is now available for download in beta at the Chrome web store, right
here
. It runs on Firefox 4 and IE 9, but it was originally designed for Chrome, and that's what I recommend anyway after seeing this Keynote.
The Web Angry Birds was built in WebGL, but no worries, it still runs on Canvas. From the keynote, it appears that there's a simple click-and-shoot interface replacing the touch with which we're all so familiar, but I imagine the transition will be easy. I just now installed it, only took a few seconds.
Vesterbacka spoke at great, broken, length on how excited Rovio was to release AB for the web, jocularly citing how much they love the Chrome in-app purchase flat rate of 5%. Also, the vast offline storage that Chrome offers allows web-users to play the game in its entirety
offline
. You are now free to move about the cabin, slinging ornery avians at indignant swine.
Vesterbacka also mentioned that Rovio provided a "special treat" for Chrome users- all new, Chrome-themed levels available exclusively on the Chrome web-app. Chrome buttons have replaced some of the wood, iron, and glass and there are even Chrome bombs. Sick. And lastly, the Mighty Eagle will of course be available in Google's developer-friendly and seamless in-app purchasing process. In Vesterbacka's words:
Let's go pop some pigs!
Wouldn't it be nice if we had some sort of, I don't know, portable device that would give us access to all of this cool stuff? Just saying........
Related Tags