From the people that brought you the crops that farm you, scientists in Russia were able to surgically implant a temporary device that allowed a patient to operate a computer- with the mind. This news comes to us from the aptly-named
Singularity Hub
, reminding us that one day, whether we like it or not, robots will take over the world. Also, something's telling me they're going to be able to override the Prime Directive.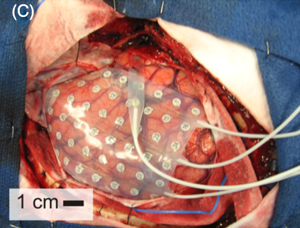 The operation was overseen by Dr. Eric Leuthardt, a man previously responsible for developing another Brain-Computer Interface that allowed patients to control video-games with their minds. Clearly, the good doctor's philosophy has taken a turn from "Let's play Space Invaders with our minds!" to "Let's invade Space with Cyborgs". This particular BCI is a net of ECoG (electrocorticographic) electrodes that was temporarily placed beneath the dura, a layer of connective tissue in the brain. Scary? Scarier is that it took some of the patients a mere 4 minutes to get used to the interface and operate a computer with ease. Leuthardt believes this will be instrumental in the operation of bionic prosthetics- I'll be damned if this doesn't get creepier by the word.
Here's a promotional video with more details. Hit the link above to read more about the technical stuff.