Resistance Is Futile: Fraunhofer IPMS Announces Borg Vision, Pleases The Collective
Fraunhofer IPMS makes Seven of Nine seven of now.
Published Thu, Apr 21 2011 12:52 AM CDT
|
Updated Tue, Nov 3 2020 12:31 PM CST
Fraunhofer IPMS announced today a working protoype of the world's first Borg vision. That is, a bidirectional and eye-tracking OLED micro-display. For the layperson, that's transparent screen on which you can see digital content. And it looks like this: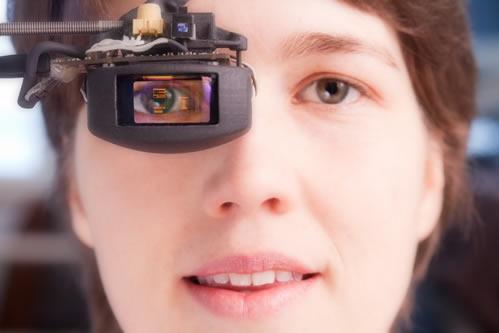 So basically, reflected light that generally assaults your eyes are used to overlay digital information through the eyepiece. Imagine the Monocle function in the Yelp application, but as you are walking around in real-time, without holding your iPhone out in front of you the entire time. Even better, since its an "eye-tracking" piece of hardware, it always knows where you're looking(!), allowing all sorts of interesting uses in the way of photo recognition, facial recognition, natural feature tracking, and social networking.
This bodes very, very well for Augmented Reality development, and if Fraunhofer can make sure this stuff hits industrially before it hits commercially, we'll have all kinds of crazy stuff happening, all in the blink of an eye. Too cheesy? Press release to follow.
Dresden, 30.03.2011

May 17 - 19, 2011 in Los Angeles/USA

Booth No. 1019, German Pavilion

Fraunhofer IPMS, Dresden carries out customer specific developments in fields of microelectronic and micro systems technology serving as a business partner that supports the transition of innovative ideas into new products. Fraunhofer IPMS develops and fabricates modern MEMS and OLED devices in its own clean room facilities. In addition to R&D services it offers ramp-up within a pilot production. With modern equipment and about 200 scientists and engineers, the range of projects and expertise covers sensor and actuator systems, microscanner, spatial light modulators, wireless microsystems as well as organic materials and systems.

At SID Display Week 2011 (exhibition) Fraunhofer IPMS presents:
OLED microdisplay based Eyetracking HMD

The Fraunhofer IPMS works on the integration of sensors and microdisplays on CMOS backplane for several years now. For example the researchers have developed a bidirectional microdisplay, which could be used in Head-Mounted Displays (HMD) for gaze triggered augmented-reality (AR) aplications.

The chips contain both an active OLED matrix and therein integrated photodetectors. The combination of both matrixes in one chip is an essential possibility for system integrators to design smaller, lightweight and portable systems with both functionalities.

Rigo Herold, PhD student at Fraunhofer IPMS and participant of the development team, declares: This unique device enables the design of a new generation of small AR-HMDs with advanced functionality.

The OLED microdisplay based Eyetracking HMD enables the user on the one hand to overlay the view of the real world with virtual contents, for example to watch videos at jog. And on the other hand the user can select the next video triggered only by his gaze without using his hands.

On the SID 2011 a demonstrator will be presented for the first time, that has the following technical specifications:
Monochrome
Special Eyetracking-Algorithm for HMDs based on bidirectional microdisplays
Front brightness: > 1500 cd/m

Rigo Herold will present the system at the exhibitor forum at May 17, 2011 4:00 p.m.: Eyecatcher: The Bi-Directional OLED Microdisplay.
Related Tags