Marvel Vs. Capcom 3 Buggin' Out? No Worries, Capcom's All Over It
Lots of bugs in MvC3 get weeded out- no one really notices cuz crazy stuff happens all the time.
Published Fri, Apr 15 2011 7:32 PM CDT
|
Updated Tue, Nov 3 2020 12:31 PM CST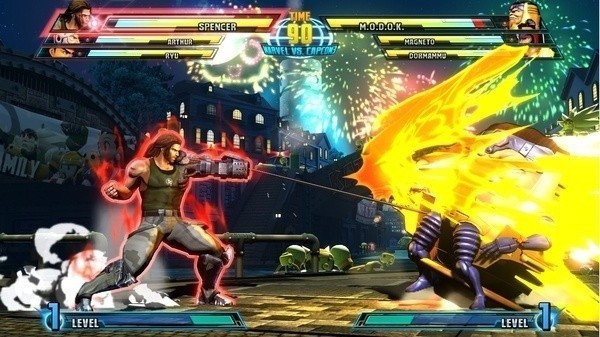 If any of you have been playing the button mashing extravaganza that is Marvel Vs. Capcom 3, you may have noticed some strange things. That is to say, strange things
other than
the crazy assortment of flashing lights, colors, and the fact that you manage to pull off all sorts of combos and super moves without ever really knowing how.
Is your Ryu floating randomly? Snapping out Zero momentarily disabling your characters? Is your opponent's Captain America randomly performing combos on you? And my personal favorite, is your opponent's Amaterasu carrying out frustratingly infinite combos? I'd actually love to see the look on the person's face on the receiving end of that.
If you're like most MvC 3 players, you probably haven't noticed and/or just assumed that your button mashing had come together in some sort of harmonius wonder, but all of the above are bugs, and are in no circumstances supposed to be happening.
In a blog post today
, Capcom announced that they've fixed all of these problems and more.
Honestly though, who would have even known? Love the game, but crazy unintended @#$% happens all the time.
Yes, the rumors are true: we did patch MvC3 today. We've fixed UI bugs and tweaked minor details of the gameplay to improve the experience. Here are the details of what was updated.

- Fixed bug where a cross counter and X-factor activation would cause Ryu to float if using the β or γ assists.

- Fixed bug involving snapping out Zero during the activation of his Shadow Clone, which was disabling control of that player's characters.

- Fixed bug involving the hit stun for Captain America's Shield Slash against Ryu, Amaterasu, and Hulk, which was allowing an unintended combo.

- Fixed bug for displaying more than 128 victories in a game lobby.

- Fixed bug involving Haggar blocking an attack in the air, immediately after using the Hoodlum Launcher.

- Fixed bug for displaying consecutive victories over 99 in Player Match.

- Fixed bug that allowed an infinite combo by Amaterasu against Taskmaster (Standing), Amaterasu(Standing or Ducking), Zero (Standing), and Shuma-Gorath (Ducking). Bug fix involved Amaterasu's Solar Flare attack (x5) and Power Slash combo.

- Fixed bug where Spencer's Bionic Maneuvers would cause Viewtiful Joe and Arthur to be stuck in the ground, when used as part of a combo with Haggar's Rapid Fire Fist.

- Fixed bug where Specner's Bionic Maneuvers would cause the damage to display incorrectly, when used in a combo with Haggar's Steel Pipe and Rapid Fire Fist.
Related Tags