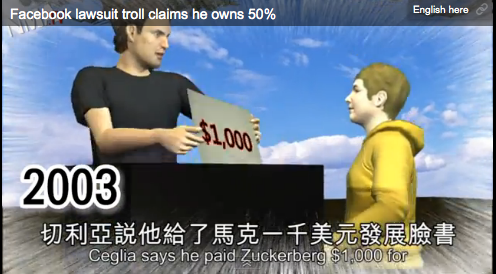 If you haven't heard the news today, an upstate New York entrepreneur and convicted felon Paul Ceglia is suing Facebook founder and CEO Mark Zuckerberg for over 50% of the company. Paul, proud owner of the two shiniest, brassiest balls on the planet might actually have a case though. Evidently Zuckerberg accepted $1000 for exchange of half of a company he refers to as "the Face Book" in various email exchanges with Ceglia, who is being represented by reputable international law firm DLA Piper. He is not, as they say, @#$%ing around.
Seven years later, after already having been convicted of fraud for his woodchipper fuel company (I know, right?), Ceglia stumbled upon these emails and contracts while researching his defense for his fraud case. If you want to take a look,
the evidence is pretty solid
, and DLA wouldn't stake their reputations on evidence that was shoddy.
Facebook, wonder of wonders, is claiming that Ceglia fabricated all of the emails and contracts. Honestly, I'm really curious as to how this one will play out.
In other news, Taiwanese News Agency NMA put together this absurdly detailed CGI animation that sums up the entire ordeal in just a few minutes, with all sorts of allegories and metaphors to boot! They went with a nautical theme, possibly inspired by the fact that the Winklevoss twins are Olympic rowers. Who knows? But the impishly-depicted Zuckerberg is always good for a laugh, as is him throwing a tantrum on a boardroom table and pissing all over the bird-emails.
Maybe you should just watch it (via
TechCrunch
)