Aurasma AR Browser Makes Waves, Virtual Objects Appear On Print
Aurasma announces upcoming AR...browser? search? is it even AR?
Published Mon, Apr 11 2011 1:54 PM CDT
|
Updated Tue, Nov 3 2020 12:32 PM CST

European software company Autonomy has announced their upcoming augmented reality iPhone application, dubbed Aurasma. The application uses a form of Autonomy's already existing IDOL pattern recognition software to scan what appears to be print images of all types with the end goal of automatically inserting a related video of some sort. Aurasma seems to have been conceived as a competitor to Google's already available Google Googles visual search application that allows the user to search their environment by snapping pictures of it. Autonomy's founder, Michael Lynch, told the
New York Times
:
We have been convinced for a long time that the idea of typing keywords into a search box is a byproduct and not an end. If you're truly going to interact between the physical world and the virtual world you're not going to do that sitting in your bedroom at the keyboard.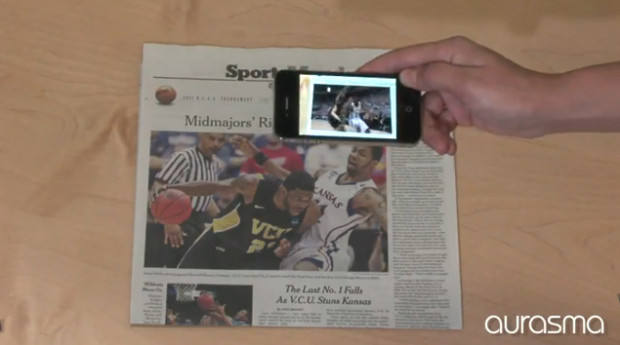 Aurasma will evidently be available sometime next month, debuting as part of an AR advertisement tie-in with an as-yet unnamed upcoming film. Lynch also reportedly mentioned the availability of a development platform which, like Aurasma, will be available for free download.
We're dubious as to the "AR" aspect of this application so far- if "all" that Aurasma is doing (and it's nothing to sneeze at) is loading up videos for pre-loaded images in a database, what reality is it augmented? How different is this from a QR code, that allows the user to look at an ad and be redirected to a website? This is undoubtedly an innovative new method of visual search, but turning your newspaper from a two dimensional static information source to a two dimensional static information source with moving pictures doesn't really constitute a giant shift in technological progress. With people buying and/or reading printed materials less and less, and more and more moving toward (absurd paywalls evidently notwithstanding) online forms of journalism- why doesn't the
Times
just write Flash videos into all of the pictures on its online site? You could play those right from your tablet (as long as it's not an iPad or iPad 2) and/or smartphone, no print purchase necessary.
Aurasma looks like it has great potential, and with Autonomy's backing and resources it stands to deploy in a very large way. I'm just not sold on this being the (overly used term, at best) "future of AR" that it's touted to be.
Related Tags