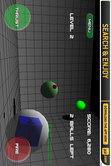 Remember ASteroids? Like, for Atari? How quickly things would devolve once you had blasted a few of the big ones and you were spinning wildly out of control? Imagine that in 3D environment, but with giant bouncing bright-hued balls reminiscent of grade school gym class. That's Terry Weissman's Ball Pit, available now, for free, for iPhone 4.
So 3D Asteroids for iPhone you say? "Eh", you say? This is not a platform game- you can actually move within the environment by
moving in real life
. If you take a few steps back, you'll move backwards in real time
within the game
. You're in a giant doorless and windowless room with a bunch of bouncy balls. And a bouncy ball gun. Stuff is going to bounce off the walls "behind" you and to the sides, so you're going to be aiming your iPhone 4 in various directions at a very rapid pace. I just played the game for about 10 minutes before falling over a chair, a table, and at least one person.
This app treads the line between Augmented and Virtual Reality, but I'll call it a win for AR because you can interact with the environment using your own. AR needs as many wins as it can get lately anyway.
Ball Pit also impressively demonstrates the iPhone's inner gyroscope, but more importantly answers the question of whether you, yourself, have one that is reliable.
Mine's so-so.
Not a game for the bus or the streets, kiddies.
Download
here
!