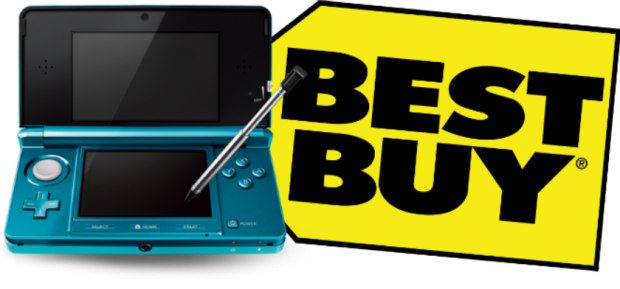 New Yorkers: if you're partying around the Union Square area of Manhattan tomorrow night, you would be remiss to not consider video games and food trucks.
If you've been following us, you know that we had a chance to check out the Nintendo 3DS at both the 2011 Game Developer's Conference and the Pier 39 Nintendo Pod.
At midnight tomorrow, the 26th of March, Nintendo will go live with its brand-new hand-held game system and its active 3D engine. To celebrate the event, Nintendo is hosting a gigantic party at the Best Buy in Union Square in Manhattan, starting at noon tomorrow. Nintendo will be set up in Union Square Park during the day, providing the crowds with live music and even more opportunities to test out the 3DS before it becomes available for sale that night. Players will have the chance to play
nintendogs + cats, Pilotwings Resort, Steel Diver, Super Street Fighter IV 3D, Madden NFL Football, LEGO Star Wars III,
and
Asphalt 3D
. Nintendo has also said that they will be featuring their augmented reality games like Face Raiders. Be assured that lots of Nintendo SWAG will be given out, and I imagine even a few raffles. Who knows? Also, the first 300 people to buy a 3DS once the clock strikes midnight receive a "special" carrying case.
Food trucks? Live music? Video games? Free stuff?
I smell a cheap date night....

More details here