Puff Puff Pass the GTX 590; Why some have gone up in smoke!
We tell you why reviewers are sending back GTX 590s because they've died.
Published Fri, Mar 25 2011 2:31 AM CDT
|
Updated Tue, Nov 3 2020 12:32 PM CST
Since the launch of the GTX 590 we've seen a number of reviewers mention that their cards had died during overclocking, and it's beginning to put doubt in peoples minds when it comes to the quality of the card. About 12 hours ago I'd taken off my reviewer cap and thrown on my investigator one.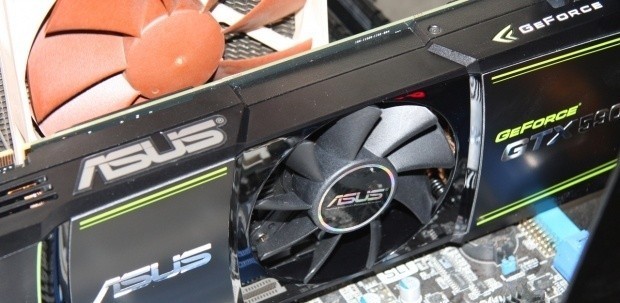 It seems that most of the GTX 590s are dieing due to the amount of Voltage being put through the card. I spoke to MSI last night about Afterburner and asked them that if 1.2v isn't safe, how come Afterburner allows the GTX 590 to go that high? - The answer to that question was; "no, Afterburner only allow to 1.05v - 1.2v is not possible".
It came as a bit of a surprise, though, when I said that MSI Afterburner indeed did offer 1.2v on the ASUS GTX 590. Originally MSI thought only Smart Doctor allowed the voltage to go that high, but we've been told that the ASUS BIOS has been tweaked, giving the ability to push the voltage higher.
Just before the reviews went live I received an email from NVIDIA and they said that voltage adjustment shouldn't be done on reference cooling and also be no higher than +25mV. That means the maximum they recommend is 963v from the default .938v. Of course, we would expect the manufacturer to really play it safe. One company told us they've tested internally at 1.000v and achieved a core clock of 840MHz and a memory clock of 4000MHz QDR.
As always, there's a risk when it comes to adjusting the voltage and while more often than not we think manufacturers won't offer us higher than what is safe, it's of course important to remember that you do increase the voltage at your own risk.
If you know of any other GTX 590s that allow a voltage increase in MSI Afterburner above 1.05v, please let us know. The main thing you need to know is that around 1.000v which seems to be safe "unofficially", you shouldn't have a problem achieving in excess of 800MHz without causing any damage to your card.
Some websites have said the issue is isolated to the ForceWare 267.52 drivers, but this
isn't true
as we
only
tested on the FW 267.71 driver and ours did die as well when overclocking.
So, there's a few things to note :-
-
Do Not
increase voltage above 1.05v, even if the option is there to go higher. We've only heard as high as 1.000v has been tested.
- Ideally NVIDIA would prefer you don't increase voltage
at all
on reference cooling, but have recommended no higher than .963v.
- This doesn't reflect all NVIDIA GTX 590 products, nor the quality. Throwing almost +300mv on any card with air cooling will more than likely compromise the card's health.
- The issue doesn't seem to be related to any particular driver release.
-
Do Not
increase voltage above 1.05v, even if the option is there to go higher. We've only heard as high as 1.000v has been tested.
If we find some more information we'll update you further, but I think we've covered just about everything.
Related Tags