AMD mobile GPU roadmap for the next two years, leaked
AMD 28nm-based mobile GPU roadmap, leaked - names and details inside.

Published Mon, Mar 14 2011 7:30 PM CDT
|
Updated Tue, Nov 3 2020 12:32 PM CST
Wimbledon, Heathrow, Chelsea and Thames - these are the codenames of AMD's next-generation mobile GPUs. The 28nm-based GPUs are expected to be released over next 12 months or so with the first three, Heathrow, Chelsea and Thames set for production starting Q4 2011 with a release of November 2011. Wimbledon behind them with a release sometime in Q2, 2012.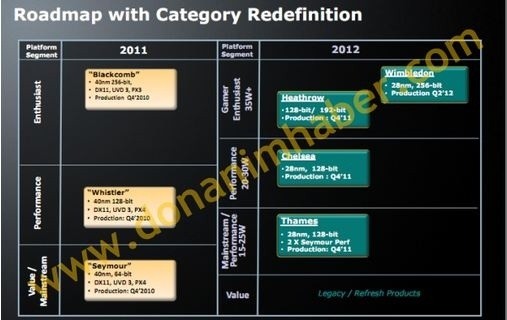 APU's have changed the market and thus, the releases feel this love. The 28nm product lineup shows a redefinition of the categories - "Value" is gone. In its place will be the mainstream/performance GPU, Thames. Thames uses a 128-bit memory bus and has twice the performance of the 2011-based "Seymour" mobile GPU (which is the Radeon HD 6400M). The thermal envelope on Thames will be 15 - 25W which is quite a bit higher than the 10W associated with previous entry-level mobile GPUs.
The difference between mainstream and performance GPUs is now blurred - TDPs and even performance will be close between Thames and Chelsea. The Gamer/Enthusiast chip is where the fun will be. Heathrow will sport a 128-bit or 192-bit memory but and will use a TDP above 35W.
Wimbledon will see a release in Q2 2012 and will feature a 256-bit bus with a TDP of 65W.
These chips are presumed to be the Radeon HD 7000M series and because of the 28nm-based tech they're using, some might end up being fabbed at TMSC while the others could be fabbed at Globalfoundaries. AMD (and NVIDIA for that matter) were not happy with TMSC's handling of the 32nm cancellation and other 28nm-based delays.
Related Tags