Google's Face(book) Gets a Makeover: "Profiles" Review
Google updates Profiles to optimize social search and compete with Facebook.
Published Mon, Mar 7 2011 12:41 PM CST
|
Updated Tue, Nov 3 2020 12:32 PM CST
Almost two years ago, Google launched a
rather mundane attempt
to compete with social media juggernaut Facebook. If you weren't reading about how detrimental social media is to your
brain
and your sense of morality (which you probably, and ironically found on your Twitter or Facebook news feeds), you may have caught this somewhat underwhelming SEO boost to your social network two Aprils ago.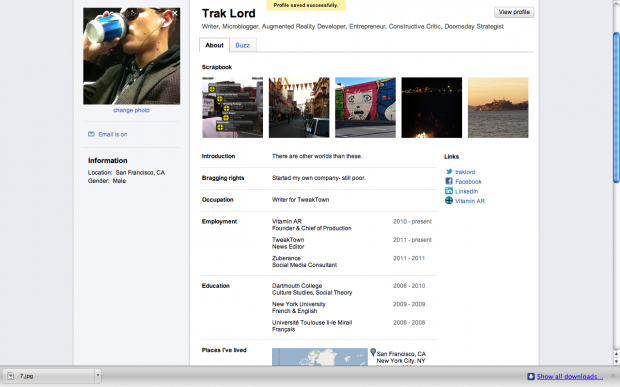 This past Thursday, Google announced it had
enhanced
its Profiles section. I think we all remember what happened
the last time
Google created a social service that duplicated an existing one, but 8.5 million reminders of their mistake will hopefully avert anything similar this time.
Google users that decide to participate will notice that their profiles will update automatically as new features become available. For the time being, the page looks almost identical to a watered-down Facebook Profile page- but is that necessarily a bad thing? With so much noise in the social media ecosystem, it's almost refreshing to have a clean and simple profile page
somewhere.
Though Google Profiles integrates aspects of LinkedIn, Facebook, and Twitter, it does come with original features: a "Places I've Lived" Google Maps Interface, a "Bragging Rights" input field, and 10 personal tags for social SEO. All of the user's Picasa photos are of course readily available for posting, but there seems to be a 5-photo limit when posting on your actual profile.
Profiles is an adequate social media addition, but it is an addition nonetheless. Facebook clones and alleged "killers" have received
lots of press
in the past, but ~50 billion dollar company continues to be the White Whale of the internet. In a generation that is paradoxically obsessed with recluse-like privacy and nigh-fetishistic exhbitionism, it can't hurt, right?
Related Tags