it's Black, it's White, it's better- it's the iPad 2
iPad 2 announced in San Francisco by Steve Jobs; ships March 11th in USA, March 25th everywhere else.
Published Wed, Mar 2 2011 2:31 PM CST
|
Updated Tue, Nov 3 2020 12:32 PM CST
According to the twitter-stream-throttling hashtag
#ipad2
, everyone in the world is talking about Apple's newest post-PC product release, announced today at the Yerba Buena Center in San Francisco. Despite rumors of his failing health, a very chipper-looking Steve Jobs showed up to deliver the keynote presentation, which in true Apple style rolled out all of the next-gen iPad's newest features, many of which confirmed previous rumors and speculations about the device.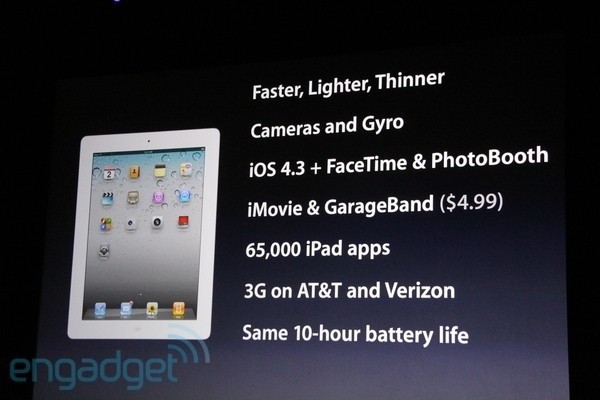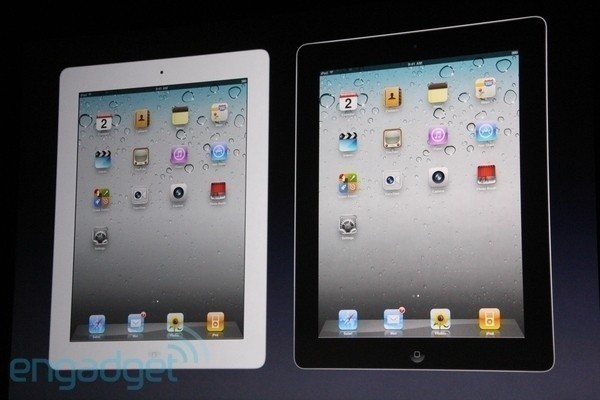 The iPad 2 is slated to ship March 11th in the United States, and will bring with it (among mass hysteria and frustrated Apple Store customers) a host of "long"-awaited specs:
-A5 Dual Core Processors
-rear and external facing video camera
-gyroscope
-HDMI out
-iOS 4.3 (new operating system)
-33% thinner body at 8.8 mm (also thinner than the iPhone 4)
-weight of 1.3 lbs (.2 reduction)
And let's not forget that both the next-gen iPod touch and the GSM iPhone will be out the very same day. And for those of you living in
not
America, it will most likely ship to your country on March 25th.
The iPad 2 is available in
both
white and black and starts at $499 for the 16GB with WiFi, just like the last one.
The iPad 2 still does not have a USB port or Flash (shocker), and the screen, though larger, has the same resolution as the original- but between the improved iPad-specific apps like the versions of iMovie and GarageBand demoed at the launch and the two cameras that will allow for great development and user interactive experiences, there will most likely be little about which to complain.
Related Tags