GIGABYTE's X58A-OC motherboard gets full introduction on video
Cuts out the flab, designed purely for overclockers.

Published Fri, Feb 25 2011 7:31 AM CST
|
Updated Tue, Nov 3 2020 12:32 PM CST
Earlier on today we visited the GIGABYTE headquarters in Taipei and had a good old fashioned full look at its newest motherboard that will be officially launched next week at CeBIT in Germany. We are talking about the X58A-OC aka Hi Cookie's baby.
GIGABYTE has long wanted to produce a motherboard dedicated strictly to overclockers - that wait is now over. We are talking about a board that doesn't just overclock well, but one that cuts out the crap and nonsense and just gets down to the business of high-end overclocking.
The Taiwanese company has long been involved with overclockers and overclocking events around the world where it has managed to create a sizable market for itself. It has learnt much from the investment put into these events over time and even managed to pick up a famous Taiwanese extreme overclocker named "Hi Cookie". This guy is the brains behind the X58A-OC, an overclocking motherboard designed by a real overclocker. Logically it makes perfect sense, but how does it actually work out? From what we saw today, pretty well.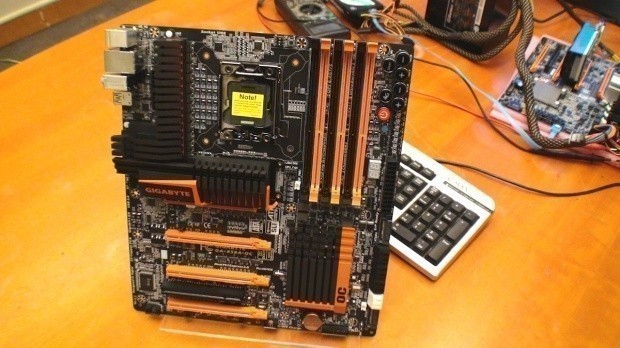 There are five big main OC features on this motherboard that are highlighted in detail in the video above. Overclockable power phases for increased stability at extreme clock speeds, OC touch buttons for dead simple overclocking, voltage monitoring points to see exactly what is happening in terms of volts used in various areas of the motherboard, additional SATA power ports to provide additional PCI Express power and OC Dual BIOS for easily switching between BIOS' for simplified overclocking testing.
We'll have a full review of this later on and we'll try and get one into the hands of our resident extreme overclocker Deanzo, so he can see what it can really do. Suffice to say, seeing 5.2GHz achieved with air cooling in a matter of minutes was pretty darn impressive. GIGABYTE expects the X58A-OC to sell for around $280 USD in the United States (prices will vary from region to region) and it should go on sale midway through next month.
Related Tags