Sony Ericsson Xperia PLAY PS Phone Hands-on at Taipei Game Show 2011
A perfect blend of smartphone and mobile gaming in one?

Published Fri, Feb 18 2011 4:21 AM CST
|
Updated Tue, Nov 3 2020 12:32 PM CST
Taipei Game Show 2011 -
Today marked the first day of the Taipei Game 2011 and we went along to see what was on show. Besides the vast amount of beautiful show girls, there was some cool new technology to take in at the event. Don't worry; we're coming back to the show girls soon.
Earlier this week at the Mobile World Congress in Spain, Sony Ericsson officially unveiled the PlayStation Phone aka the Xperia PLAY, the first PlayStation certified smartphone. Think of a Google Android 2.3 smartphone and a PlayStation Portable fused together. It has all the same controls as a PSP and the same level of graphics quality, but of course offers much more in terms of communications as you would expect from a phone.
The Xperia PLAY we went hands-on with today is finished as far as the hardware and outside appearance goes, that part won't change. However, the firmware and other software bits still needs some work according to Kevin, the Sony Ericsson representative that we were talking to at the show. Apparently they will have the software up to scratch and at shipping level standard in around one month and the phone / portable gaming console should go on sale sometime in April for a worldwide launch.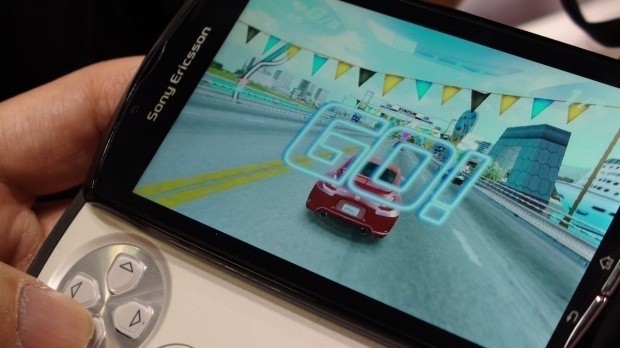 The representative was not prepared to discuss details on pricing. Watch the video above for a short and sweet hands-on introduction to the Xperia PLAY. Are you going to buy one? Let us know by commenting!
Related Tags