RumorTT: Apples next-gen iPad 2 to include multi-core chip as well as double the screen resolution?
Apple next-gen iPad news is flowing like crazy.

Published Mon, Jan 17 2011 6:58 PM CST
|
Updated Tue, Nov 3 2020 12:32 PM CST
Yesterday I talked about the next-gen iPad was getting a higher resolution display, well there are now more rumors that are pointing toward this actually happening. MacRumors is now saying that this might actually happen.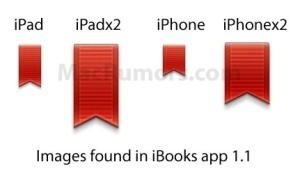 The fuel to this rumor is Apple's updated iBooks app at 1.1 accidentally included artwork for double the amount of pixels of the current iPad. The bookmark icon included art for the iPad, iPhone, iPhonex2 and iPadx2. The x2 versions are exactly double the resolution of the original versions.
This of course is not 100% proof of the claim that the next-gen iPad will have double the resolution, but it's evidence nonetheless.
Secondly, an AppleInsider who describes themselves as "familiar with Apple's graphics strategy" said that Apple are most likely going to adapt to a multi-core solution for the next-gen iPad. According to the AI source, "The most likely configuration of Apple's next custom chip is reportedly the SGX543MP2, which pairs two SGX543 cores to work as one, offering around four times the capability of the previous A4 in graphics and video tasks."
This is very important, it may not be big news for some, but think of it as a step in the right direction. Games are currently being produced on consoles and usually outputting at 1280x720 or lower. This doubling in resolution on the next-gen iPad pushes it to near 30-inch territory... it will increase millions upon millions of peoples expectations to high resolutions and hopefully this will trickle down to the gaming community too!
Related Tags