ASUS outs Tegra 2 Eee Pad Transformer tablet with detachable keyboard dock (video)
This one made the crowd pretty excited and for good reason.

Published Tue, Jan 4 2011 6:30 PM CST
|
Updated Tue, Nov 3 2020 12:32 PM CST
CES 2011, Las Vegas -
You just got done seeing the new ASUS Eee Slate and one of the other products announced by the Taiwanese company today was the Eee Pad Transformer. Yes, yet another tablet to hit the market, but this one you want.
As you can see in the video above, it comes with a dual-core NVIDIA Tegra 2 processor for full 1080p video playback and ASUS claims it offers the fastest web browsing experience in this class as well as the best multi-tasking performance. Not only that, but ASUS also went on to say that it offers the fastest flash video performance. I am not sure exactly what that means and why it is important - but what is important is that you can watch 1080p YouTube content without dropping frames and / or bring the system to a halt.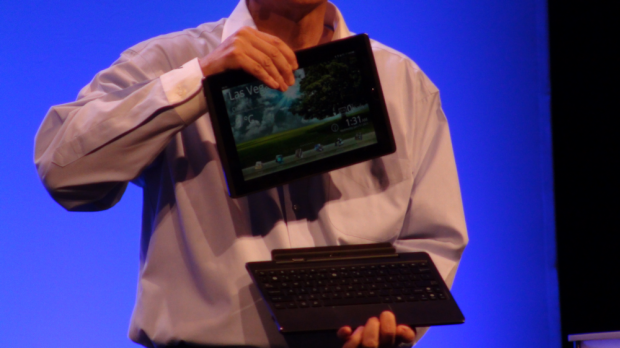 Besides the performance and while it is all good on that front and NVIDIA get some much needed love in this section of the market, the big thing with the Eee Pad Transformer is that comes with a dock. And not just any dock, it includes a full size QWERTY keyboard with extra USB ports and a card reader.
The dock also provides extended battery life bringing it up to an estimated 16 hours total, which if it works out to be true, should easily be able to provide enough battery for a full day of work on the road without needing a wall socket for charging.
Related Tags