HandStand helps you keep a grip on your iPad
HandStand keeps your iPad safe.
Published Thu, Dec 16 2010 2:08 PM CST
|
Updated Tue, Nov 3 2020 12:32 PM CST
I can tell you from experience that it can be way to easy to drop your iPad if you aren't careful. I won't let anyone use my iPad when standing up out of fear that they drop it while trying to use it with one hand. If you want to use your iPad standing up with one hand a lot, you might want to get a case like the cool HandStand.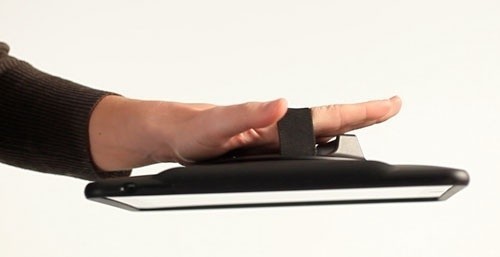 The HandStand is up for pre-order right now and has a rotating knob on the back with a strap that you slip your hand into. The strap keeps your iPad secured to your hand no matter how you move so there is no fear that you will drop the thing onto the ground and break it. The strap knob is able to move through 360-degrees and secures the tablet for one hand operation.
The case is really cool and the knob props the screen up at a more comfortable angle when you sit the iPad down. It appears that all of the controls and ports are left uncovered when the iPad is in the case. You can pre-order your own right now with deliver set to start tomorrow for $59.95.
Related Tags