Colorful unveils IGame single slot NVIDIA GTS 450 video card
Single slot GTS 450 anyone?
Published Tue, Dec 14 2010 1:04 PM CST
|
Updated Tue, Nov 3 2020 12:32 PM CST
I can remember back when I first got into PC gaming in a big way, the video cards were all single slots. I remember the first time I heard a card was going to need two slots, I thought that a dual slot card would never catch on. Here we are today with dual slot video cards being normal and single slot cards being the parts we rarely see. Most of our rigs can handle a dual slot card without any issues, but for some uses, you need a thin card that takes up less space.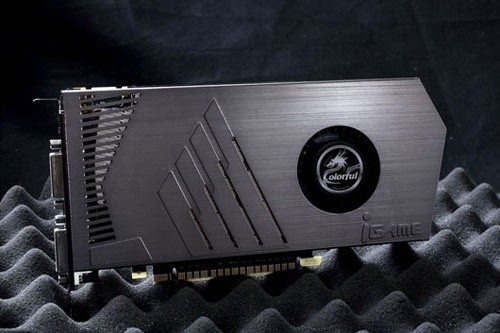 A Chinese company called Colorful has shown off a new concept card that is in the works that is a single slot card with an interesting PCB design. The video card is a single slot NVIDIA GTS 450 card with a copper plate heat sink and what appears to be an aluminum tunnel system on top for shooting air across the hot GPU.
The single slot card has an active fan for cooling and has slots cut into the PCB. The cooling system has lots of surface area and offers 56% more cooling performance than your typical single slot video card cooling solution. The slots in the PCB are apparently for solving an issue with the thickness of the inductor. When/if the card will hit stores is unknown at this point.
Related Tags