I would say that about 99% of all the ultraportables and netbooks on the market lack an optical drive. For some people that might be ok, but if you are business type odds are at some point you will wish you had an optical drive. The lack of an optical drive also means that when you are traveling you can't watch a movie to pass the time. If you need an optical drive for a notebook or netbook that didn't come with one, Lite-On has unveiled one called the eNAU608 that might be perfect.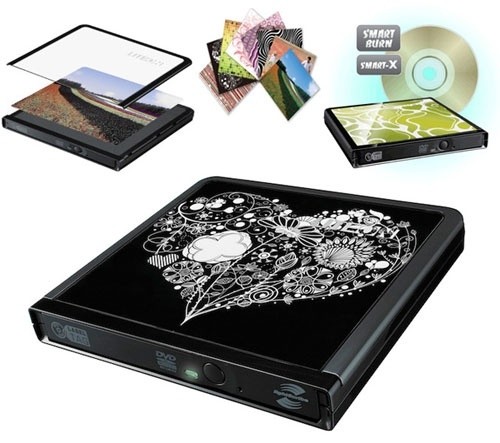 The optical drive will write to DVDs and CDs and can play recorded media as well. It gets all the power it needs to operate directly from the USB port so no power adapter is needed for the device to function. The drive is very slim as well making it easy to pack away in your luggage or backpack. Despite its small size and USB-powered design, the optical drive supports DVD burning at 8x.
The coolest feature of the optical drive may be the fact that you can customize the top of the drive enclosure with one of the included prints from Lite-On or with your own personal photos. The drive also ships with a simple software program for writing CDs and DVDs. Other features include LightScribe and LabelTag. The optical drive is available right now for $69.99.