A-DATA shows off S501 SATA-III SSD with vastly improved firmware
Big boost in performance from our early Computex benchmarks.

Published Thu, Dec 9 2010 1:23 AM CST
|
Updated Tue, Nov 3 2020 12:32 PM CST
Yesterday we stopped by the A-DATA headquarters here in Taipei and one of the new products we were shown was their upcoming S501 SATA-III solid state disk drive.
If you are on the ball, you may remember Chris
previewed
this drive with some exclusive benchmarks back in June during Computex Taipei and he was completely blown away by the numbers he was able to produce on the show floor. Under ATTO Disk Benchmark, maximum read speeds hit around 408MB/s and maximum write speeds around 220MB/s.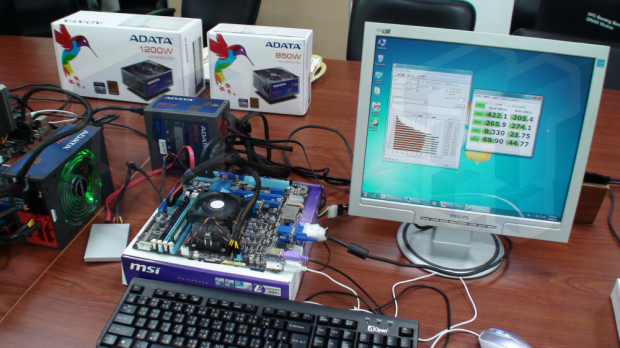 Those results are nothing to be sneezed at though - they are really impressive. Fast forward several months and A-DATA is getting close to actually releasing and selling the S501 and boy, I can tell you they have been working hard on boosting the performance of their first SATA-III SSD to insane levels. We were shown a drive running the latest (and we are told stable and near shipping) firmware that will be displayed during CES in Las Vegas next month that was able to hit a totally amazing 460MB/s on the read and 325MB/s on the write.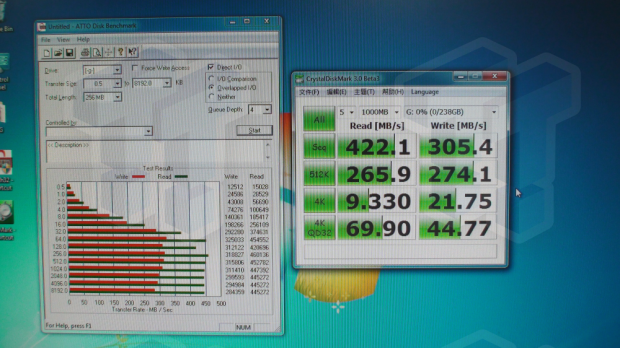 This is all from a single 256GB 2.5-inch drive using Toshiba 34nm flash modules and a Marvell controller. One of the A-DATA PM's during our meeting commented that "
2011 is all about the SSD when it comes to SATA-III, and normal hard drives should only be for SATA-II
". If these numbers are anything to go by, who would we be to disagree with such a claim? A-DATA commented that we will only see performance improvements in the SSD arena as they and others start to adopt and produce drives using faster 25nm flash in 2011 and beyond. Suffice to say, this performance is incredible and what you would usually only see from two pretty good SSDs in RAID 0.
While we do not have any further details at this stage, A-DATA is serious about its SSD business and will also come out with 3.5-inch flash storage solutions before much longer, too. No doubt, we will see plenty of super fast SATA-III SSD solutions at CES and we can't wait!
Related Tags