NASA shuttle PC's sold with sensitive data on HDD
NASA sell a bunch of PC's and components - with sensitive data still on them.

Published Wed, Dec 8 2010 8:16 PM CST
|
Updated Tue, Nov 3 2020 12:32 PM CST
Want secret NASA data? Want the FBI chasing you down? Want to be on the run and live a life of looking over your back? Look no further than your trusty TweakTown news post.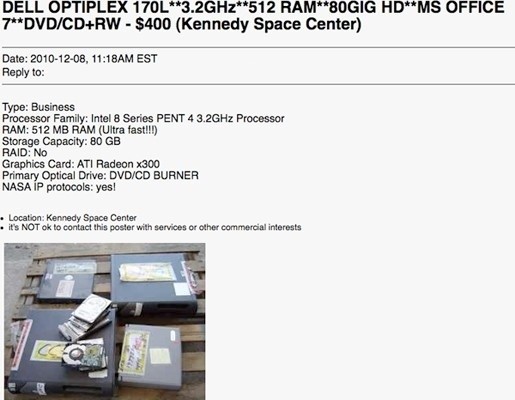 NASA has sold a bunch of PC's and components from NASA's shuttles from four different centers - Kennedy and Johnson Space Centers as well as Ames and Langley Research Centers. The various bits had reportedly "failed sanitization verification testing" or, weren't tested, period.
In Langley's case, while the HDD's were being destroyed "personnel did not properly account for or track the removed hard drives during the destruction process." Laughable! Where the Kennedy Space Center computers were being prepared for sale that still had "Internet Protocol information [that] was prominently displayed."
Yet, WikiLeaks is such a harmful thing for Governments world wide, the truth gets out and warrants are placed and corporations cease dealing with him, where NASA just forget simple things like wiping out critical data, or destroying the HDD's altogether - and that's OK.
Are NASA that poor they need to sell second hand systems to pay for new Shuttle's or something?
Related Tags