Visiontek introduces GPU/NIC hybrid - Radeon 5770 + Bigfoot Killer NIC E2100
Visiontek and Bigfoot partner up for GPU + NIC combination - bites other GPU's and spits their heads.

Published Wed, Dec 1 2010 9:00 PM CST
|
Updated Tue, Nov 3 2020 12:32 PM CST
As I started this news report, I obviously have to choose a category but what do I choose? Video cards or Networking? After reassembling my head from it exploding at the thought of something never seen before (GPU + NIC combined) I thought it was a nifty idea.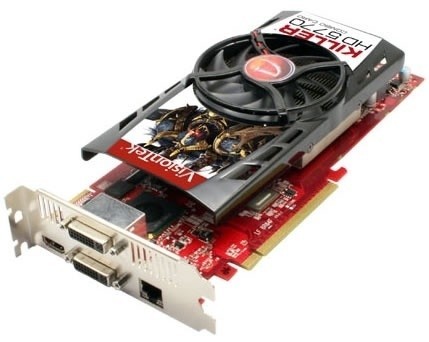 Sure, it might not sell in the millions and Visiontek won't turn into Apple overnight - but when companies look at a box and think outside of the box, it is great. Visiontek and Bigfoot have co-developed a PCI-Express x16 expansion board that features both a GPU and NIC which is being touted as the "world's first online gaming upgrade card".
The product combines an AMD Radeon HD 5770 with Bigfoot's Killer E2100 network controller and is said to be the only PCIe expansion device that combines both high-quality graphics with low-latency networking.
In case you think Bigfoot's controller doesn't do much (or if you've just simply never heard of it) the Killer E2100 is a standalone device, designed to reduce latency and boost general gaming performance over the standard onboard network controllers - reviews show that the difference is not that large, but not everything is what it seems and some people will pay for that little edge over their competitors.
Related Tags