DoubleTwist update includes wireless syncing; takes a jab at Winamp in the process
The fight to be "the iTunes of Android" is on.
Published Tue, Nov 30 2010 9:44 PM CST
|
Updated Tue, Nov 3 2020 12:33 PM CST
DoubleTwist isn't taking Winamp's official arrival on the Android music player scene lying down. On the same day that Winamp went out of beta and into public consumption mode, DoubleTwist fired back with a major update that brings wireless sync to the popular Android music player.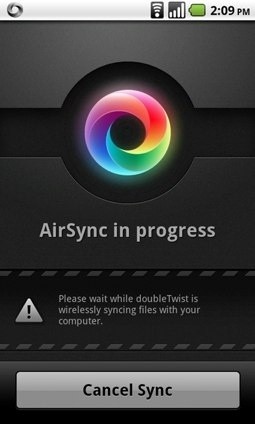 AirSync, the simply titled new feature, will allow you to wirelessly sync your movies, music, and photos. Simply connect your phone to your PC's WiFi network, start the app, and touch the AirSync button. After keying in a passcode, you can set up the app to sync music, video, and photos. After the initial setup AirSync automatically syncs to your network, picking up new files if they're added. You'll have to shell out for the paid version to play with AirSync; the first 10,000 users to sign up will get it for 99 cents and after that it will cost $4.99.
With this obviously being a response to Winamp's wireless syncing ability, TechCrunch reached out to DoubleTwist to get a response about Winamp hitting the market. Their response was straight to the point and a bit testy:
"In general, we do not consider Winamp a competitor as they are geared towards a specific subcategory of users who don't mind endless menus, preferences and options. We are more focused on the mass market, average user who just wants to make the most out of their device without being overwhelmed by technology."
Looks like the battle is on!
Related Tags