Analog Devices debuts pair of new 3D capable HDMI receivers
New chips will be used in all sorts of home theater gear.
Published Tue, Nov 30 2010 1:06 PM CST
|
Updated Tue, Nov 3 2020 12:33 PM CST
Home theater is built on HDMI for the most part today. The move from multiple cables to a single cable for audio and video was huge for fans looking for an easy way to wire their home theaters and superior sound and video at the same time. Analog Devices has unveiled a couple new physically small and power sipping HDMI receivers for home theater hardware that have some nice features inside.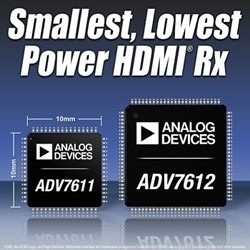 The new receivers are the ADV7611 and the ADV7612. Both of the receiver chips support HDMI 1.4a 3D connectivity and have full 1080p resolution at 60fps support. The smaller 7611 is very compact with chip dimensions of 10mm x 10mm x 1.6mm and the 7612 measures 14mm x 14mm x 1.6mm. The footprint of the receiver chips is 50% smaller than other similar chips and use 25% less power than other chips.
The new chips are aimed directly at power-sensitive ultra-slim home theater in a box systems, projectors, AV receivers, and TVs. The chips will also find their way into sound bars and other items. The 7612 supports 32-bit deep color whereas the 7611 only supports 24-bit color. The 7612 also supports ADI's Xpressview for changing between HDMI inputs in under a second.
Related Tags