Corsair's new line of DDR3 appears with a Vengeance
Timings and modules to suit nearly all budgets and desires.
Published Tue, Nov 23 2010 9:59 PM CST
|
Updated Tue, Nov 3 2020 12:33 PM CST
Corsair is unleashing a new line of DDR3 RAM on the tech world just in time for the holiday season. Their new Vengeance series comes in a runs at 1600mhz at 1.5V in 2GB and 4GB modules.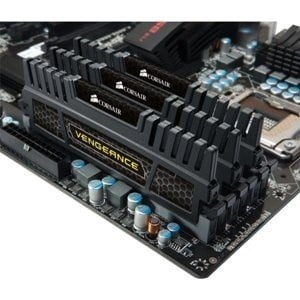 The Vengeance kits will come in dual and triple-channel sets from 4GB to 16GB. Their "Light" heatsinks look to consist of thick metal plates with elongated heatsink fins. CL8 and CL9 timings will be available.
The full Vengeance lineup:
4GB (1x4GB) 1600MHz 9-9-9-24 @ 1.5V Single-Channel DDR3 (CMZ4GX3M1A1600C9)
6GB (3x2GB) 1600MHz 8-8-8-24 @ 1.5V Triple-Channel DDR3 (CMZ6GX3M3A1600C8)
8GB (2x4GB) 1600MHz 9-9-9-24 @ 1.5V Dual-Channel DDR3 (CMZ8GX3M2A1600C9)
8GB (2x4GB) 1600MHz 8-8-8-24 @ 1.5V Dual-Channel DDR3 (CMZ8GX3M2A1600C8)
12GB (3x4GB) 1600MHz 9-9-9-24 @ 1.5V Triple-Channel DDR3 (CMZ12GX3M3A1600C9)
16GB (4x4GB) 1600MHz 9-9-9-24 @ 1.5V Dual-Channel DDR3 (CMZ16GX3M4A1600C9)
Related Tags