Harry Kewell encourages Aussie kids to become more active via technology
Harry Kewell recommends Kinect to Australian kids - kicks virtual soccer ball at them.

Published Wed, Nov 17 2010 11:09 PM CST
|
Updated Tue, Nov 3 2020 12:33 PM CST
Microsoft brings controller-free entertainment to Australia today, with Kinect for Xbox 360 launching at retailers in time for Christmas.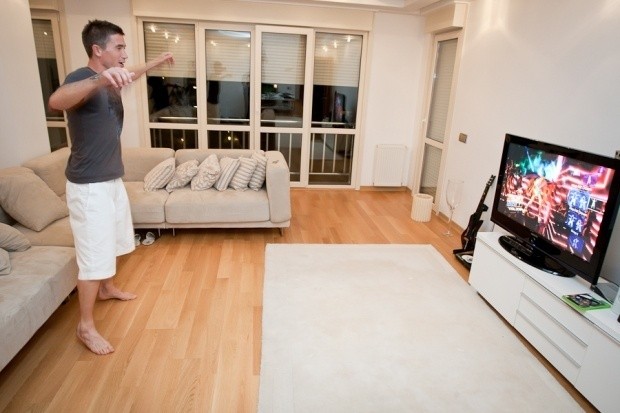 Predicted to be one of the most significant consumer electronic product launches in history, Kinect's world first technology features a revolutionary sensor which allows full body play for the first time.
Instead of using a traditional controller and pressing buttons, the player's full body is captured by the Kinect sensor, enabling their movements and gestures to control the action.
By freeing people from the boundaries of a controller, Kinect brings entertainment to life in extraordinary new ways, getting people off the couch and using movement they intuitively know in real life to interact with the game. See a ball? Kick it. Control an HD movie with a wave of the hand. Want to join a friend in the fun? Simply jump in.
"This is the most transformative product launch in the history of our business," said David McLean, General Manager of Xbox, Microsoft Australia and New Zealand.
Microsoft has already sold 1 million Kinect sensors worldwide in the 10 days since its US launch on November 4, on track to reach its forecast of 5 million units to be sold worldwide prior to Christmas.
"Kinect has incredible appeal to people of all ages and will introduce Xbox to millions of Australians, especially those who have never before picked up a controller. Additionally, when we combine Kinect with our Xbox LIVE capabilities games and movies are all available on demand, at the wave of a hand," David McLean said.
"There's no question Kinect will be one of the most sought after gifts this year - retailers are even re-configuring their stores for Kinect and investing to ensure they can meet demand. Kinect is flagged as one of their big-sellers these holidays."
Kinect also has the seal approval from international footballer, father of three and the Government's Healthy Living Ambassador, Harry Kewell - an Xbox enthusiast who hopes Kinect will encourage kids to become more active via technology.
"I'm a massive supporter of getting kids off the couch," he said. "Kids love computer games and to see what Xbox has done is fantastic. This gives the opportunity for kids and parents to get involved by being active, jumping around and having a great time. This will transform the way families get together on a Sunday afternoon."
Fitness expert and The Biggest Loser television personality Michelle Bridges is enthusiastic about her role in Kinect, appearing as an "avatar" in the game Your Shape: Fitness Evolved.
"I'm so excited that I've had this opportunity to be involved in such forward thinking technology, that we can now take training and make it virtual. I now become your personal virtual trainer within the game," she said.
"This is so revolutionary and a massive step in making fitness fun and also accessible. With workouts personalised for your body, your fitness level, and your goals, you can now get fit and healthy within the convenience of your own home."
With 19 games available by Christmas, including Kinect Adventures , Kinect Sports, Dance Central, Your Shape: Fitness Evolved, Harry Potter and the Deathly Hallows and Kinectimals,* David McLean predicts living rooms across Australia will soon be transformed into fitness rooms, dance clubs and sports stadiums.
"Given our complete product offering, including Kinect, Xbox LIVE, Foxtel on Xbox 360 and a great line up of blockbuster games, we are thrilled that Xbox can now become the ultimate entertainment experience in the home, bringing families together this Christmas," said David McLean.
With over 1.2 million Xbox 360 consoles currently in households across Australia, console owners1 can purchase the Kinect sensor for A$199.00 (RRP)** packaged with the Kinect Adventures game.
Additionally, new customers to Xbox will have an all-in-one opportunity to jump in with a new offer from participating retailers for A$449.00 (RRP)** featuring:
The all new Xbox 360 4GB console
Kinect sensor
Kinect Adventures game
Related Tags