Qualcomm reveal next-gen Snapdragon. 28nm, dual-core, 5x performance increase
Qualcomm set to blow minds in the future - promising Xbox 360/PS3 level graphics in mobiles by 2013.

Published Wed, Nov 17 2010 10:26 PM CST
|
Updated Tue, Nov 3 2020 12:33 PM CST
Ready for a mobile revolution?? Lately we've been posting about the upcoming Cortex-A9 based Tegra 2 chips, but Qualcomm has been patiently waiting in the shadows to launch out and attack with a revolutionary new chip.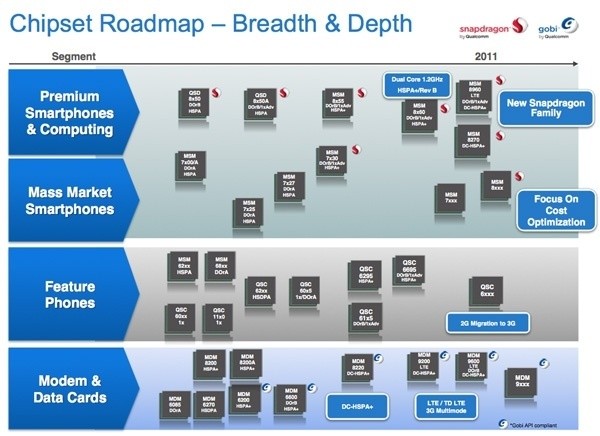 The MSM8260 and 8660 SoC's chips, they're based on current Qualcomm tech - integrating two Scorpion cores and an Adreno 205 GPU on a single 45nm die. The 8260 has HSPA+ support while the 8660 features HSPA+, CDMA2000 and 1xEV-DO Rev. B - both chips will run at 1.2GHz.
That's not all, the gem in this news is about the upcoming tech from Qualcomm - next-gen Snapdragon SoC's built on a 28nm process. The first one will be the Qualcomm MSM8960 SoC.
Inside this beauty are two next-gen cores, Qualcomm is promising 5x the performance of the original Snapdragon.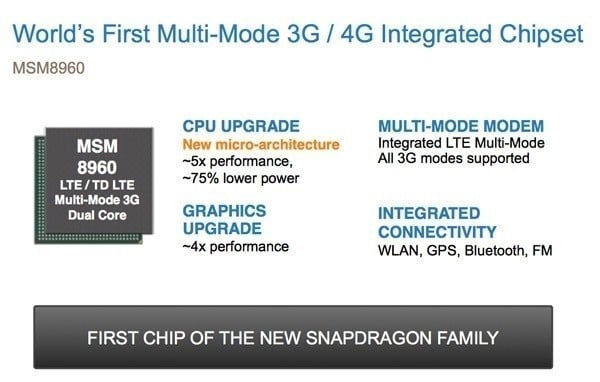 Power consumption is said to be up to 75% lower - aggressive, but we'll have to wait and see if it's pulled off or not.
More interestingly, is the GPU side of things - the MSM8690 is supposed to offer a ~4X improvement in graphics performance - we don't know what they're comparing the 4X to, but it would be around double the GPU performance from mobile devices we have today.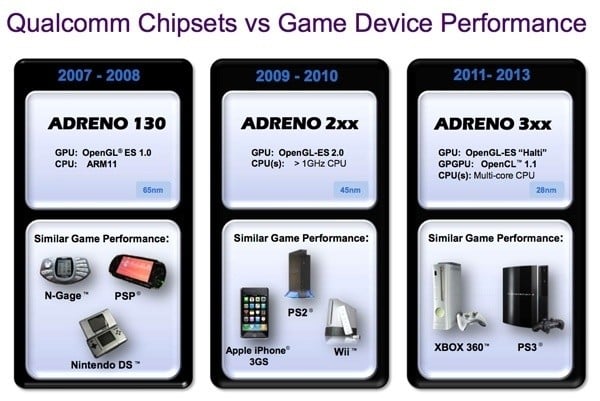 Qualcomm also separately announced the Adreno 3xx GPU which will be used in SoC from 2011 - 2014 on the 28nm process. As you can see in the above pic, it is saying by 2011 - 2013 we will see the performance on mobiles similar to what we see in the Xbox 360 and PlayStation 3.
Imagine that... now, I'm sure you're thrashing coins in your piggy bank as you read this - but it's going to be a great next few years for tech fans.
Related Tags