A flood of NVIDIA GeForce GTX580 leaks, news, and rainbows
NVIDIA GeForce GTX580 - more news, seems to be roughly 20% faster than the GTX480.

Published Tue, Nov 2 2010 10:15 PM CDT
|
Updated Tue, Nov 3 2020 12:33 PM CST
This is a bit of an added news bit to something I posted a few days ago in regards to the so close we can smell it cooking on the BBQ - GeForce GTX580 card. Some of the info was missing, and other sites are filling this gap.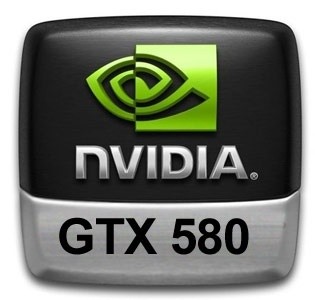 We now have a "close to confirmed" TDP of 244W - slightly lower than the 480's rated 250W. Texture fillrate was flagged as one of the bottlenecks of the GTX480 - with the 580 effectively doubling the TMU to 128 - other than these fixes, it's a "fixed" release of the GTX480, something that the GTX480 was meant to be at launch, but cut down for various reasons.
This tweak to the 480 GPU seems to have given a performance increase of around 15 - 20% over the GTX480 while using less power. The source does note, that it must be noted that the GTX480's official 250W TDP (and on their website "maximum board power") was pretty controversial - as NVIDIA reflected typical gaming load for power consumption - where as stress benchmarks like Furmark showed power consumption of closer to 300W - where this is something AMD use as a reference for TDP ratings - at the moment, it is unknown if the 244W figure is referring to gaming load or absolute TDP in stress applications.
Now, for the best bit, a benchmark pic: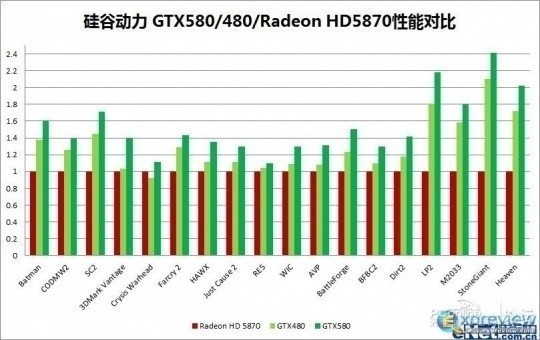 As we can see, we're going to get roughly 20% more performance out of the 580. Even with a "next-generation" GPU, NVIDIA will still fall short of the ATI Radeon 5970 from over 12 months ago. This isn't even taking into account the 6970 launch, and then the 6990 launch all in the coming weeks.
What do I think? NVIDIA want to get in now, to show they have a better GPU to what is available *today*. In all benchmarks, it will be compared to a 5xx0 card, at best, the 68x0 release also. It will beat them all and come out on top as "the best GPU available". Where, the 69x0 gets the glory of being compared directly against the GTX580 - where if it beats it, will only give NVIDIA 2 weeks of glory, then they'll be back to sad Keanu.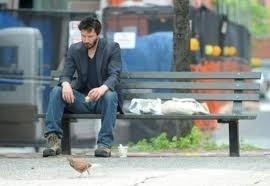 Related Tags