PSA: Cell phones are pretty dirty devices
18x grosser than a toilet handle.
Published Fri, Oct 15 2010 10:52 PM CDT
|
Updated Tue, Nov 3 2020 12:33 PM CST
Looks like there's something else for germaphobes to worry about: smartphones! According to a study at Stanford University, a phone can be covered with up to 18 times more germs than a toilet flush handle.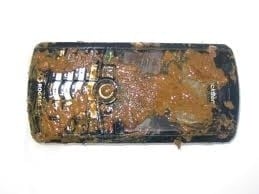 According to the study, "If you put virus on a surface, like an iPhone, about 30 percent of it will get on your fingertips. A fair amount of it may go from your fingers to your eyes, mouth or nose, the most likely routes of infection." The facts make sense considering how often you drag your dirty fingers across your phone; I just find it funny how they love to throw the word "toilet" into these studies. Toilet handles are generally touched by one finger for a second or so; phones are prone to all day touching. Of course it's gonna be more germtastic!
Related Tags