AMD's future could be tablets, also see's an end to adding endless cores to CPU's
AMD eyes off tablets as well as pointing their finger at multi-core CPU's ending eventually.

Published Thu, Oct 14 2010 10:38 PM CDT
|
Updated Tue, Nov 3 2020 12:33 PM CST
AMD's recently had it's Q3 2010 reports out - where they had a loss of $118 million from $1.62 billion in revenue.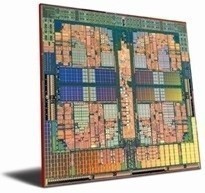 At the same time, CEO Dirk Meyer changed his thoughts on the company's idea of tablets - saying that he believes Tablets will bite into the notebook and netbook markets - he elaborated by saying that he expects AMD's netbook parts to start appearing in slates in the next couple of years. He added that they would "show up with a differentiated offering with great graphics and video technology" when the market becomes large enough for them to offset it against their R&D investment.
In other news, AMD CTO of servers, Donald Newell mentioned that the number of individual core's on a chip won't continue to increase forever. He said "There will come an end to the core-count wars." "Just as the megahertz race was eventually defeated by thermal restrictions, so too will the number of cores on an chip cease to increase. " I won't put an exact date on it, but I don't myself expect to see 128 cores on a full-sized server die by the end of this decade".
But, I think that is the future - just as the Megahertz race ended, so too will core-increases. Unless software magically catches up and really uses multi-threaded cores properly (where we see full jumps in performance from adding CPU's) the market will change when something else is offered...
Related Tags