Duke Nukem Forever playable at Mana Bar, QLD this Saturday!
Duke Nukem finds his gum - also fights aliens in toilets in Mana Bar, QLD this Saturday.

Published Thu, Oct 14 2010 9:53 PM CDT
|
Updated Tue, Nov 3 2020 12:33 PM CST
Want to play the now-not-vapourware Duke Nukem Forever? Well, now is your chance!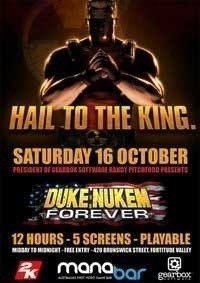 Duke Nukem Forever will be on-display and playable this Saturday, October 16 at Mana Bar, Brisbane, Queensland.
The event starts at 12pm with all 5 screens at Mana Bar demoing the game - giving people the opportunity to play the game, in person with their own two hands. To make the event even better, Gearbox Software president Randy Pitchford and copresident Steve Gibson will be live in person. Randy will also be involved in a special question-and-answer session that will be hosted by Yahtzee Croshaw.
To confirm the exact details of the event, follow the official Mana Bar Duke Nukem Forever
event page on Facebook
.
Now if the gods at TweakTown are reading this - feel free to email me ticket reservations for flights, accommodation and gum to my email address ;)
Hail to the king, baby.
Related Tags