Europe and Asia given October 21st launch date for Windows Phone 7
Worldwide phone release list included.
Published Mon, Oct 11 2010 10:22 AM CDT
|
Updated Tue, Nov 3 2020 12:33 PM CST
A full two weeks before Windows Phone 7 makes its debut with AT&T is the U.S., smartphone fanatics in Europe and Asia will be able to get their hands on WP7 devices. Ten different devices will be launched across thirty countries (some devices will have different names in different markets) with 60 mobile operators in 30 countries planning on carrying WP7 devices by 2011.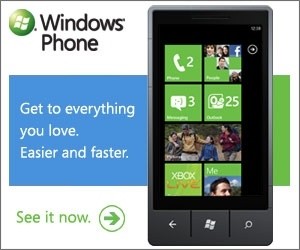 "We have a beautiful lineup in this first wave of Windows Phone 7 handsets," said Steve Ballmer, chief executive officer at Microsoft. With their "hub" format giving easy access to games, pictures, and music with heavy social network integration, Microsoft is taking a big leap back into the smartphone market currently dominated by Android, iPhone, and BlackBerry. Check out the full list of worldwide Windows Phone 7 launch devices and carriers after the break.
New Windows Phones: (List courtesy of Microsoft:
The following devices will come to North America, Europe and Asia Pacific in the holiday 2010 timeframe.
In North America:
AT&T
HTC Surround, United States
Samsung Focus, United States
LG Quantum, United States
T-Mobile USA
HTC HD7, United States
Dell Venue Pro, United States
TELUS
HTC 7 Surround, Canada
LG Optimus 7, Canada
America Mvil
LG Optimus 7, Mexico
In Europe:
O2
HTC HD7, United Kingdom, Germany
Orange
HTC 7 Mozart, including France, United Kingdom
Samsung OMNIA 7, including France, United Kingdom
SFR
HTC 7 Trophy, France
Samsung OMNIA 7, France
Movistar
LG Optimus 7, Spain
HTC HD7, Spain
Samsung OMNIA 7, Spain
Deutsche Telekom AG
HTC 7 Mozart, Germany
Samsung OMNIA 7, Germany
Vodafone
HTC 7 Trophy, including Germany, Spain, United Kingdom
LG Optimus 7, including Germany, Italy, Spain, United Kingdom
In Asia Pacific:
SingTel
HTC HD 7, Singapore
LG Optimus 7, Singapore
Telstra
HTC 7 Mozart, Australia
LG Optimus 7Q, Australia
Vodafone
HTC 7 Trophy, including Australia
Related Tags