Antec's breath of fresh air - Antec LanBoy Air
Antec unveil new LanBoy Air.

Published Mon, Sep 27 2010 7:39 PM CDT
|
Updated Tue, Nov 3 2020 12:33 PM CST
Antec have a new case that's about to be released, in the famous LanBoy range, the LanBoy Air.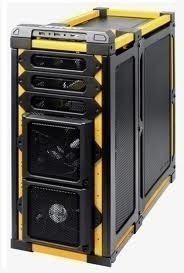 It seems like a great case for lanners, or for people who like a change (within the case). I think I might end up getting one - I loved the previous LanBoy cases and this seems like a next-gen change on that same great case.
Antec have the following speel on it:
"The LanBoy Air sports unprecedented top-to-bottom mesh construction for extensive air ventilation and includes five 120 mm fans (two front-adjustable speed 120 mm blue LED fans and three 120 mm TwoCool two-speed blue LED fans) with space to mount up to 15 total fans. The fans are positioned to create positive air pressure, bringing cool air in and around hard drives and graphics cards, and expelling hot air and dust through the chassis' perforated panels.
The LanBoy Air has an entirely reconfigurable interior with 11 total drive bays (including nine modular bays to accommodate six internal 3.5" drives and three external 5.25" drives.) The 3.5" drives can also take advantage of Antec's exclusive AirMount suspension mounting system, which suspends hard drives in the drive bays, reducing vibration and increasing ease of use. Additionally, the 5.25" and 3.5" drive bays can be easily configured in three horizontal orientations: facing the front, right or left to accommodate users' desired chassis arrangements. This chassis also comes with two internal bottom-mounted 2.5" SSD drive bays.
The chassis' motherboard tray comes complete with a CPU cut-out and the power supply unit (PSU) mount is situated on the bottom of the chassis. In addition, both the motherboard tray and PSU mount slide out for easy installation and can be repositioned for increased customization - meeting the exacting demands of end users as well as system builders.
The LanBoy Air has space to fit graphics cards 15" and over and also features two rugged carrying handles for easy transport while at LAN parties, eight expansion slots, three USB ports (including one USB 3.0 port) and a convenient bottom-installed tool box for hardware and screw storage."
"Antec's Skeleton was universally lauded as the most innovative chassis ever. The LanBoy Air builds on the Skeleton's open-air frame design, combining it with a familiar form factor and fully modular construction," said Scott Richards, senior vice president at Antec. "This chassis offers our most avid users the platform they need to push the limits of what they imagined possible in high-performance system design."
LanBoy Air video:
Related Tags