Apple CEO Steve Jobs has long been known to personally respond to emails sent to his personal Apple email address. When a Long Island University journalism student sent an email to him after being repeatedly ignored by Apple's PR department requesting a quote for an assignment covering iPad use in public settings, she got an unfriendly response; being told by Jobs himself "Our goals do not include helping you get a good grade. Sorry" and "Please leave us alone."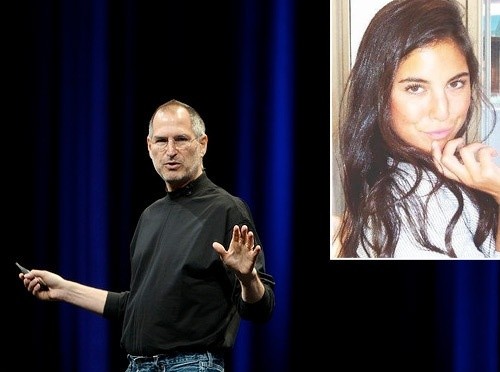 After receiving the assignment from her professor to cover her school's new initiative to buy iPads for all incoming students, Long Island University senior Chelsea Kate Isaacs decided to try an speak with someone at Apple about their feelings on the use of iPads in academic settings. After sending six emails with no response from Apple, she took a friend's offhanded idea to email Jobs himself and ran with it and didn't exactly get the warmest of responses. Maybe she should have turned off the option that tags her emails "Sent via BlackBerry from T-Mobile?"
After explaining her lack of luck getting in contact with Apple's PR department for her assignment, Jobs' email replied "Our goals do not include helping you get a good grade. Sorry." After a few more back and forths, he laid down the final statement of "Please leave us alone." While it may be a little ambitious for a journalism student to think she will get a quote from Jobs, why couldn't he just ignore this one like he does with most others?
Here's a copy of the email exchange; read from bottom to top. (Courtesy of gawker.com)
>> From: Steve Jobs
>> Date: Thu, 16 Sep 2010 16:19:13
>> To: XXXX@my.liu.edu
>> Subject: Re: Mr. Jobs - Student Journalist Concerned about Apple's Media
>> Relations Dept.
>>
>> Our goals do not include helping you get a good grade. Sorry.
>>
>> Sent from my iPhone
>>
>> On Sep 16, 2010, at 3:22 PM, XXXX@my.liu.edu wrote:
>>
>>> Dear Mr. Jobs,
>>>
>>> As a college student, I can honestly say that Apple has treated me very well; my iPod is basically the lifeline that gets me through the day, and thanks to Apple's Final Cut Pro, I aced last semester's video editing project. I was planning to buy a new Apple computer to add to my list of Apple favorites.
>>>
>>> Because I have had such good experiences as a college student using Apple products, I was incredibly surprised to find Apple's Media Relations Department to be absolutely unresponsive to my questions, which (as I had repeatedly told them in voicemail after voicemail) are vital to my academic grade as a student journalist.
>>>
>>> For my journalism course, I am writing an article about the implementation of an iPad program at my school, the CW Post Campus of Long Island University.
>>>
>>> The completion of this article
>>> is crucial to my grade in the class, and it may potentially get published in our university's newspaper. I had 3 quick questions regarding iPads, and wanted to obtain answers from the most credible source: Apple's Media Relations Department.
>>>
>>> I have called countless times throughout the week, leaving short, but detailed, messages which included my contact information and the date of my deadline. Today, I left my 6th message, which stressed the increasingly more urgent nature of the situation. It is now the end of the business day, and I have not received a call back. My deadline is tomorrow.
>>>
>>> Mr. Jobs, I humbly ask why Apple is so wonderfully attentive to the needs of students, whether it be with the latest, greatest invention or the company's helpful customer service line, and yet, ironically, the Media Relations Department fails to answer any of my questions which are, as I have repeatedly told them, essential to my academic performance.
>>>
>>> For colleges nationwide, Apple is at the forefront of improving the way we function in the academic environment, increasing the efficiency of conducting academic research, as well as sharing and communicating with our college communities.
>>>
>>> With such an emphasis on advancing our education system, why, then, has Apple's Media Relations team ignored my needs as a student journalist who is just trying to get a good grade?
>>>
>>> In addition to the hypocrisy of ignoring student needs when they represent a company that does so much for our schools, the Media Relations reps are apparently, also failing to responsibly handle the inquiries of professional journalists on deadlines. Unfortunately, for a journalist in the professional world, lacking the answers they need on deadline day won't just cost them a grade; it could cost them their job.
>>>
>>> Thank you very much for your time and consideration.
>>>
>>> Sincerely,
>>>
>>> Chelsea Kate Isaacs
>>> Senior
>>> CW Post - Long Island University
>>>
>>> Sent via BlackBerry from T-Mobile