Kingston 2333MHz DDR3 modules pushed beyond 3GHz
Good ole' liquid nitrogen does wonders.
Published Tue, Aug 24 2010 6:26 AM CDT
|
Updated Tue, Jun 16 2020 4:29 PM CDT
We see some very impressive overclocking results from time to time out of some of our DDR3 samples that pass through the TweakTown labs, but nothing holds a candle to what was achieved out of some Kingston branded modules at GamesCom 2010 last week.
Overclockers Benjamin 'Benji Tshi' Bioux and Jean-Baptiste 'marmott' Gerard used their overclocking prowess on a pair of HyperX KHX2333C9D3T1K3 modules from Kingston; these rated for a stock speed of 2333MHz. The rest of the platform comprised a Gigabyte GA-P55-UD6 motherboard, an Intel Core i7-870 processor, a Radeon HD 5670 graphics card and a Kingston 512GB solid state drive.
In order to push for the best possible outcome, extreme cooling measures were used in the form of liquid nitrogen.
The result? A massive 3068 MHz out of the memory, while the CPU ticked away at 4347 MHz.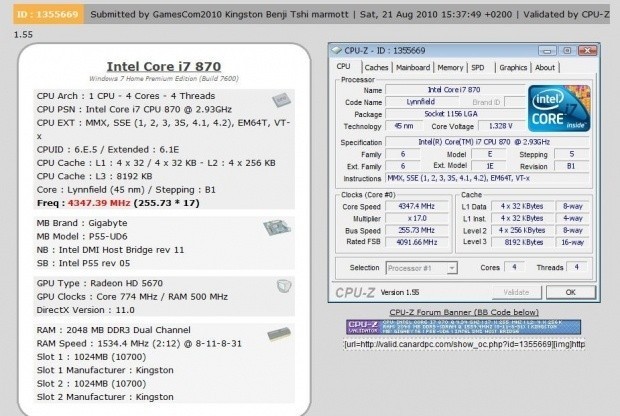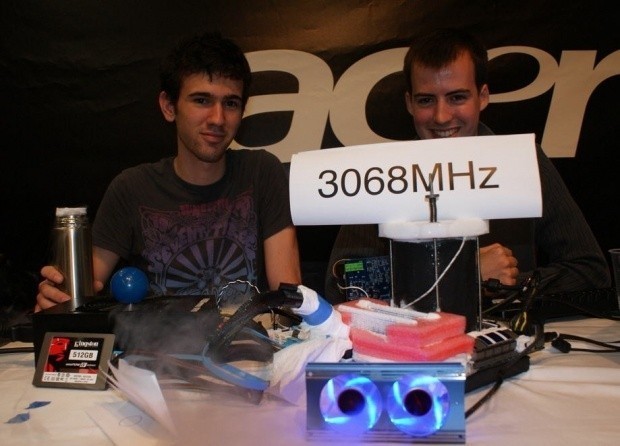 Related Tags