Zotac GeForce GTX 460 AMP! Edition video card gets new cooler and faster clocks
Zotac offers overclocked GTX 460 video card.
Published Wed, Aug 18 2010 10:06 AM CDT
|
Updated Tue, Nov 3 2020 12:34 PM CST
When it comes to video cards there are two big companies that most gamers choose from - NVIDIA and ATI/AMD. For a long time the cards to get were offerings from NVIDIA for many enthusiasts, though ATI is coming on strong with some of its recent cards offering good performance at a good price. Zotac is an NVIDIA card partner and has announced the availability of a factory overclocked video card called the GTX 460 AMP! Edition.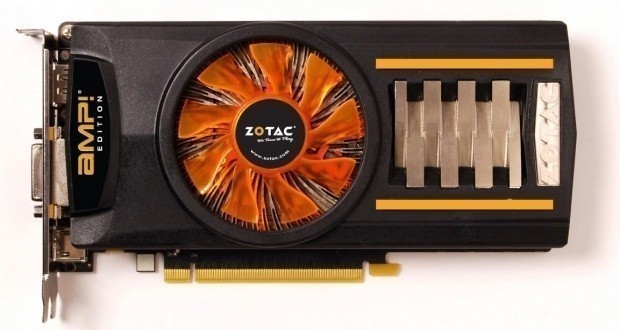 The new video card has 20% higher clock speeds than your average GTX 460 card. The video card has 1GB of RAM and has a core clock of 810MHz with 336 unified shaders and a shader clock of 1620MHz. The card also has a memory clock of 4000Mhz for the 1GB of GDDR5 graphics memory it sports.
Zotac bundles the special edition card with a copy of Prince of Persia: The Forgotten Sands video game. Connectivity option includes HDMI, DVI, and DisplayPort. The card is also OpenGL 4.0 compatible, supports 3D Vision Surround, CUDA, and PhysX just as all other cards of the GPU family do. Zotac is mum on pricing and availability, but expect the card to cost a bit more than a normal clocked version does.
Related Tags