First of Intel's 25nm based X25 series SSDs coming Q4'10
In up to 600GB capacities.
Published
0 minutes & 42 seconds read time
Intel's next-gen X25 series of solid state drives aren't far away now with word of a Q4 2010 release. There is said to be four new models coming out in the new series, all of which use the latest IMFlash Technologies 25nm NAND flash memory chips.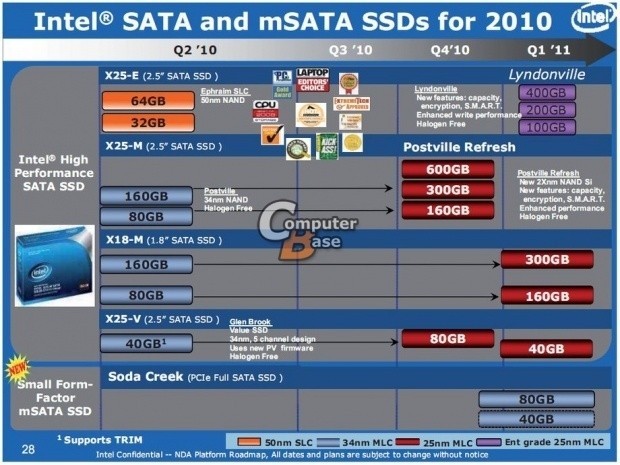 The four drives will span across their X25-M and X18-M (mainstream) as well as the X25-V (value) lineups. The same feature set will be given to the new drives as the existing 34nm 'Postville' drives except for a few additions; native data encryption, SMART and of course higher performance from the new 25nm NAND flash chips.
Looking at the most popular X25-M drives, a roadmap reveals capacities of 160, 300 and 600GB coming, while the X25-V(alue) will see the launch of an 80GB 25nm drive. When looking further on into 2011, Intel is planning some new enterprise level (X25-E / 'Lydonville') models using the new 25nm NAND chips and around the same time it will release its new X18-M series coming in 40GB, 160GB and 300GB capacities.
Related Tags