Sweet motion controlled Rock 'Em Sock 'Em robots rock
Rock 'Em Sock 'Em Robots add tech to childhood memory.
Published Mon, Aug 9 2010 2:06 PM CDT
|
Updated Tue, Nov 3 2020 12:34 PM CST
Rock 'Em Sock 'Em robots have been around since I was a little kid. My brother and I used to play them a lot and frequently you never knew who won because the heads would just pop up of their own accord.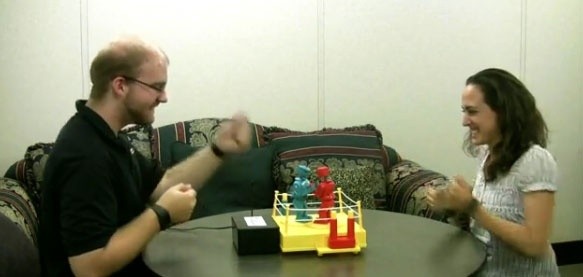 A couple designers have cobbled together a high tech version of the game using an old school plastic game along with some servos and other gear to make a motion control version. The controls use Chronos watches packed with sensors.
When the player wears the watch, the robots punch and move around sort of like Wii Boxing. The game was designed for the TI Co-op Design Challenge.
Related Tags