iPhone 4's 'aluminosilicate glass' the bees knees? - Don't be so sure
You'd be wise not to trust Apple's claims.
Published Wed, Aug 4 2010 8:12 AM CDT
|
Updated Tue, Nov 3 2020 12:34 PM CST
If you're proud of your shiny new iPhone 4, be sure to hold onto it real good when standing / walking over a hard surface, or at least invest in a decent case for it.
Apple went on this big spiel leading up to the release of the new-gen phone about how it uses 'aluminosilicate glass' which it said is the same type of glass used in the windshields of high-speed trains and and helicopters. In their words exactly, Apple said it was "
chemically strengthened to be 20 times stiffer and 30 times harder than plastic, the glass is ultradurable and more scratch resistant than ever
".
So then, with that in mind, take a look at this picture of someone's new pride and joy :-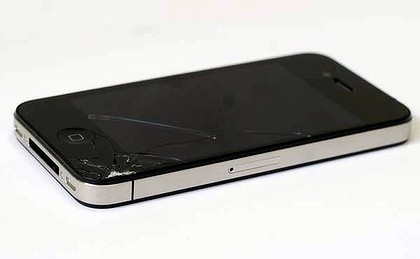 Struck with a hammer out of antennagate rage? Nope. This was merely dropped onto concrete due to slipping out of the user's hands while he was carrying too many things.
The phone was then sent up to Fixpod in Sydney where an Alex McCredie, whom is the director of the company estimated the repair to be about $199, versus $129 to repair cracked screens in the earlier 3G/3GS. This is due to the front glass and touch sensor being laminated to the LCD, therefore being unable to replace seperately.
After taking a good look at the cracked iPhone 4, Mr. McCredie said
"It was not unexpected, given that the iPhone 4 does not have the protective chrome bezel around the screen that the earlier models have, and has glass on the front and back
. Photos he provided show that the damage on dropped iPhone 4s follows a similar pattern to the previous versions.
With that said, the user of the above iPhone is quite annoyed. Certainly, when asked what he thinks of Apple's advertising claims about strengthened durability, he was quick to reply; "a load of crap".
Related Tags