The Commonwealth Bank of Australia launch augmented reality app for home buyers
Simply point your iPhone at a house and you get details and pics.
Published Wed, Aug 4 2010 6:16 AM CDT
|
Updated Tue, Nov 3 2020 12:34 PM CST
Ahh, technology; a road that never ends and there's always something new on the horizon. A pretty funky iPhone application was launched today by the Commonwealth bank which more or less gives the ability to point their phone at a house from out the front and access both its sale price as well as giving a virtual peek inside.
The new app harnesses mobile phone camera and location based tech to map the user's position; then it simply matches it with information about the house such as how many bedrooms and bathrooms it has, the exterior or interior (or both) sale photographs and also its most recent sale price. Said information is obtained via property website Realestate.com.au and rpdata.com.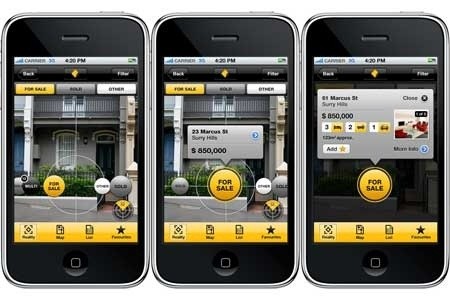 A CBA spokesperson has confirmed the information is made available publicly to anyone with the iPhone and its new app installed. There is no charge for using this facility (at this stage, at least). the CBA feels this is the way to go after noting results from a study by a media company initiative whereby it was determined that Australians are spending an average of 27 minutes a day online on their smartphones and that 70% of decisions in the home lending market have been made while online.
Related Tags