Losing bars on the iPhone 4 about more than just "holding it wrong"
On screen bars make signal loss look more serious than they are.
Published Jun 30, 2010 5:07 PM CDT
|
Updated Tue, Nov 3 2020 12:34 PM CST
By now everyone's heard of the infamous iPhone 4 antenna problem. Holding the phone the wrong way can eat up your bars and make you drop calls, right? Well, it kinda depends.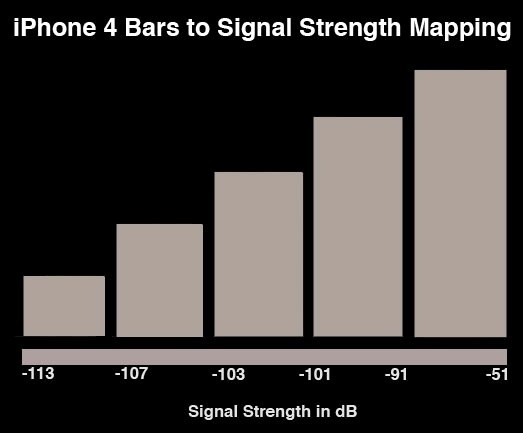 The guys at Anandtech took a deep look into the iPhone 4 and its many issues and grabbed some interesting information. Holding the phone "the wrong way" can reduce your signal an average of about 20dB. The chart above shows the signal strength in dB of the bars shown on the screen. With a difference of 40dB between 5 bars and 4 bars, in a full strength area you're not likely to see a dip in the bars shown. Due to the logarithmic function of the bar system though, the difference between four bars and zero bars is only 23 dB. That makes the antenna issue a lot more prevalent in areas where your service isn't exactly the strongest.
The on-screen bar display may be tweaked in a future iOS update, maybe even the one reportedly coming next week. The iPhone 4 is still reportedly better than previous generations at holding onto calls even with the grumbling about the antenna issue. Apple has stated that "this iPhone gets the best cellular reception yet, even though measured signal is lower than the 3GS." This doesn't erase the fact that having to hold the phone a certain way to be sure to hold on to calls is ridiculous, and here's hoping Apple can find a fix for it.
Related Tags