Tablets will outsell desktops by 2013 according to Forrester
Desktop computer percentages to take a nosedive?
Published Jun 17, 2010 8:04 PM CDT
|
Updated Tue, Nov 3 2020 12:34 PM CST
1 minute & 1 second read time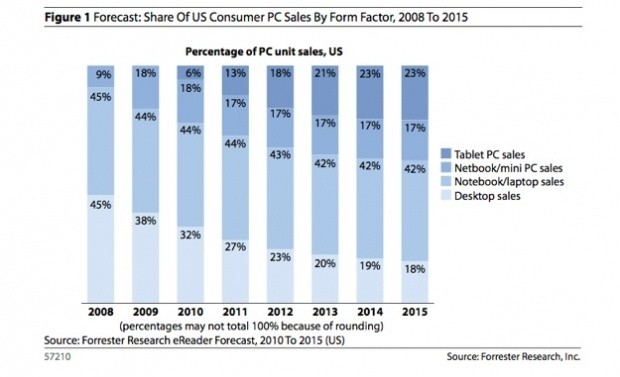 Some interesting figures came out of the Untethered Conference in New York City today, with Sarah Rotman Epps of Forrester Research providing projections that Tablets will outsell netbooks by 2012 and desktop computers by 2013. Tablets have only begun to surface with the iPad, but with the strong popularity of the Apple tablet along with the plethora of products on the horizon tablets look to be the wave of the future.
Epps expects 3.5 million tablets to be sold in 2010 (which is a VERY conservative estimate considering the iPad has already sold 2 million units all by itself) and will make up 6 percent of total PC sales. The market share is projected to more than double to 13 percent next year, eventually growing to nearly a quarter of the PC market by 2015. According to the figures, tablets are chewing almost exclusively into the desktop computer market, as the percentages for laptops (which will have the highest percentage as early as next year) and netbooks stays about the same throughout the graph. This goes against many beliefs that tablets would end up the replacement for netbooks.
The numbers here show units sold and not total money made in sale, but with the numbers stating 59 million people will be using tablets in the next five years, the rapid growth is stunning. Then again, with smartphones also becoming so capable, they may become a direct tablet competitor as well. But 2015 is a long way off, and who knows what we'll have on the horizon by then. It's still fun to project though, right?
Related Tags