Kinect for Xbox 360 to rock lounge rooms on November 4
The future of gaming starts very soon.
Published Jun 14, 2010 2:43 PM CDT
|
Updated Tue, Nov 3 2020 12:34 PM CST
1 minute & 20 seconds read time
We just got done telling you about how Microsoft will begin selling its new and improved Xbox 360 later this week, but let's go over some of the Kinect for Xbox 360 details right now.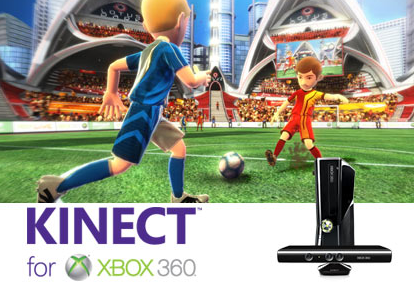 Kinect pronounced like '
konnect
' will go on sale starting November 4th in the United States. It was interesting that Microsoft did not announce a price during its recently concluded E3 2010 press conference. That may suggest that a price has not yet been confirmed by the software giant.
What we can tell you about Kinect or as it was formerly known Project Natal is that it totally kicks ass. Using the Kinect sensor that includes not only three cameras (by the look of the below press image) and microphones, it is able to really change the way you think of gaming. You see all kinds of futuristic movies and see some cool (yet fake) technology and wonder how far we are away from reaching it. Well, I'd say around 5 months and we'll be there.

Microsoft showed off a slew of Kinect games and just about every one of them totally blew us away. They showed one demo from Kinectimals with a young girl fully and totally impressively interacting with a tiger inside the game. The Kinect sensor picked up her hands and implemented them into the game. Right before our eyes we saw her hands playing with the animal and patting it and seeing the animal react accordingly as it may in real-life. Another we saw a lady come on stage and we saw the Kinect sensor map her body and realistically add her into the game. Once mapped, the lady moved around and on-screen we saw her virtual self moving accordingly, as if you were looking in a mirror, but her virtual being was interacting with the game and objects inside it.
Yeah, I could go on with this for a long time. Suffice to say, Kinect for Xbox 360 is incredible. It's the future of gaming, right now.
Related Tags