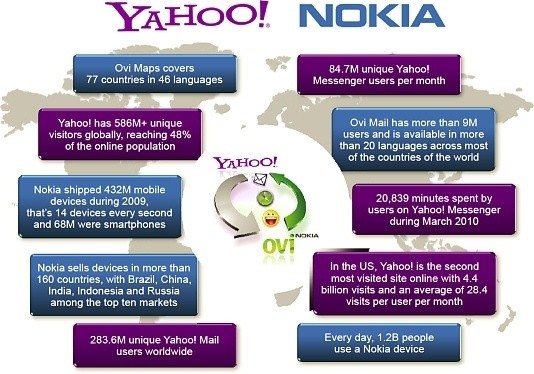 Nokia and Yahoo have announced that they will be striking a partnership to create cross platform opportunities for both companies. Yahoo is expected to become the global provider of Nokia's Ovi e-mail and messaging services, while Nokia will power Yahoo's map service online and on all of their mobile devices.
With this deal Nokia, who has already partnered with Microsoft to offer Office products like Word and Excel on certain models of mobile devices, is continuing to target users who need enterprise features. Yahoo is looking to bolster their map and navigation features, and this partnership makes sense as Yahoo currently uses maps from Navteq who is owned by Nokia. Yahoo Maps is looking to rebound since Google and MapQuest have overtaken a large section of the map platform market.
Nokia, who is the world's largest phone maker, is also looking to become more of a major player in the smartphone market in the U.S. where RIM, Apple, and Android are currently dominating and looks to use Yahoo's brand recognition to change this. Nokia CEO Olli-Pekka Kallasvuo said, "Location, maps and navigation will get more mind-share, will get more attention in the U.S. and many more users in the North American market."