Yesterday we stopped by the ASRock headquarters in Taipei to check out a couple of their new goodies ahead of Computex next week and today we dropped into ECS who showed us a couple new motherboards that they will be showcasing at the big show next week.
In our second video from the visit we got an exclusive look at the ECS A890GXM-A(U) V2.0 Black Series motherboard that supports 140 watt AMD Socket AM3 processor by way of the AMD 890GX chipset. This is a similar product to the original A890GXM except it sees some changes with the most notable being the ability to unlock cores hidden in AMD Phenom II and Sempron 140 processors. Additionally this is done without the need of adding in additional chips like its competitors, and it is done without advanced clock calibration (or ACC).
This mobo also ushers in a new ECS feature and that is called 15u Gold Contact technology. Basically extra bits of gold are added to the pins on the CPU, memory and PCI Express x16 slots and sockets to increase reliability and performance through improved conductivity. In theory this sounds great, but in practice we are not sure about its full effectiveness. We will have to get one in for a full review.
There are also a whole range of display output options including standard VGA and DVI, but also HDMI and DisplayPort and they are all powered by the DX10.1 capable ATI Radeon HD 4290 IGP graphics. There is no native USB 3.0 onboard, but that board dos come bundled with an NEC-powered PCI-E x1 card adding two USB 3.0 ports. AMD's SB850 southbridge provides five SATA 6G ports as well as one eSATA port, so you are all covered in that area. Full details can be found in the image below.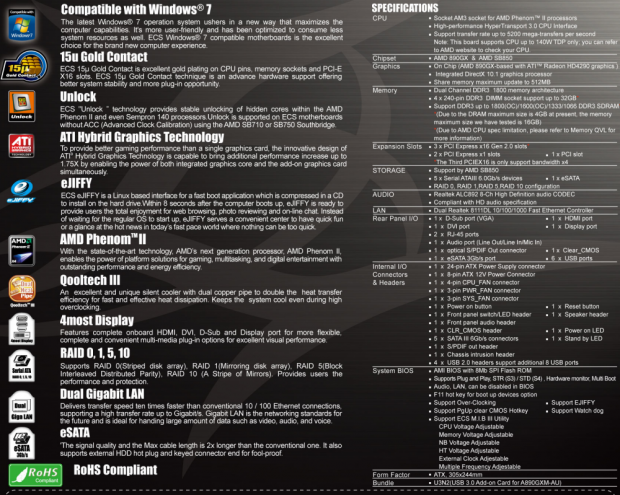 Watch the video we uploaded above to get a good close look. Again, have patience for the PM who was kind enough to introduce the mobo to us. It was her first time doing a video and English is not her first language, but still she did a good job.