MSI to showcase 'GUS' external graphics solution for laptops at Computex
Using the more common ExpressCard interface.
Published Fri, May 21 2010 11:28 PM CDT
|
Updated Tue, Nov 3 2020 12:34 PM CST
The folks over at bit-tech have been digging hard to find out what sort of things we can expect to see at this year's Computex from the big names in the biz and has got hold of some exclusive details and pics on what MSI has planned for the event.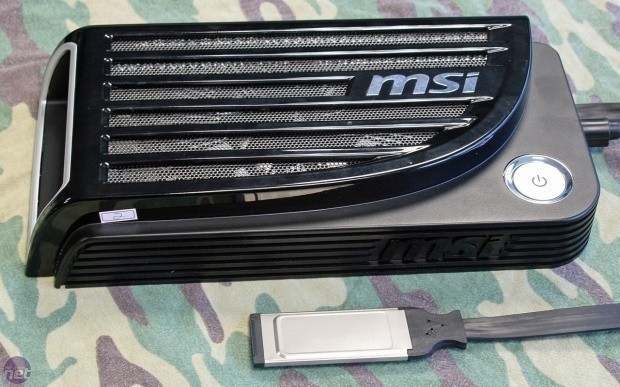 Most interestingly, they spotted a mysterious black plastic box with silver mesh that is clearly designed aesthetically to attract ethusiasts/gamers. From the above picture alone you might have struggling to work out what exactly this is.
This should give you a pretty good idea :-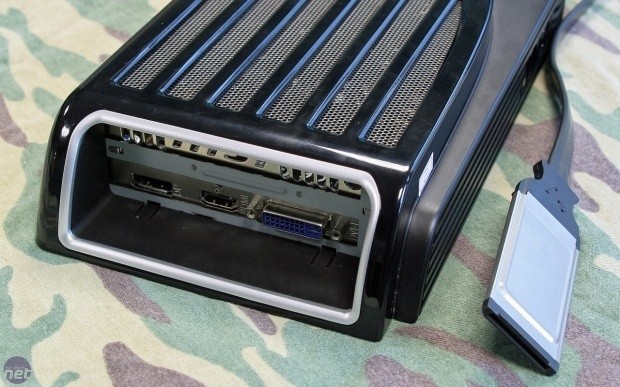 Indeed, this is MSI's first real stab at providing more powerful external graphics to boost gaming performance in laptops. Rather than using the far from standard XPG interface for connectivity, MSI has chosen to go with the ExpressCard route. Yes, bandwidth isn't great due to the PCI-E 2.0 x1 limitation, but MSI claims to have made enough tweaks to their design (such as thicker, shielded copper cabling and carefully chosen/positioned internal components) to allow the connection to use 'over 70%' of the theoretical bandwidth on offer.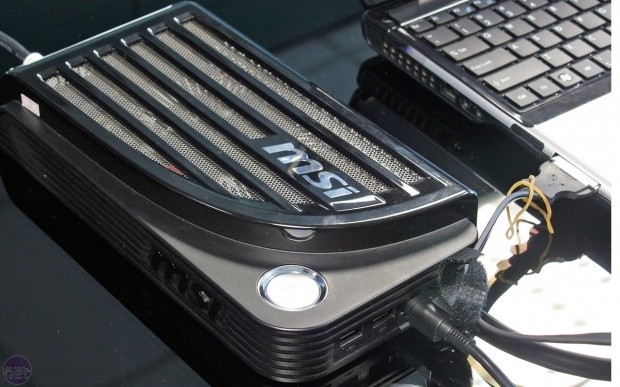 Still, while there's space for any standard PCI-E graphics card to be mounted into MSI's "GUS", the Radeon HD 5670 you see nestled into this sample is about as good as it gets due to the 7A power brick limiting the TDP to just 84W (HD 5670 has a 61W TDP). Further to this, there's no additional 6-pin power adapter for the mass of higher performing cards out there that require it.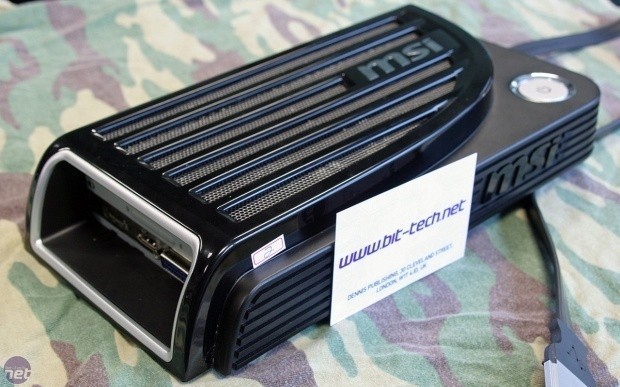 MSI has said its first-gen GUS will come in at between $169 and $229 which includes the HD 5670, but there will be the option to buy the GUS on its own for $99 to $109 and install your own card. Pretty decent pricing for folks who love their notebook enough not to want to upgrade just for faster graphics.
MSI is planning to go with the simpler USB 3.0 interface on GUS solutions in the future.
Related Tags