Opera Co-founder: "You don't need Flash (for most normal browsing)"
HTML5 and CSS3 incoming with a force?
Published May 10, 2010 8:24 AM CDT
|
Updated Wed, Jul 27 2022 3:40 AM CDT
2 minutes & 11 seconds read time
A hotly discussed on-going topic is Flash and the lack of support on mobile devices and the ability to playback HD video using Flash on power efficient devices such as netbooks and tablets.
Earlier today we attended an Opera Software press briefing here in Taipei to discuss Opera's future plans for HTML5, web standards and how they affect consumer electronics and OEMs in Taiwan. The get together was designed to be an early look of what the Norwegian software company intends to show at Computex Taipei 2010 early next month. Håkon Wium Lie, Opera CTO and the 'father of CSS' was there to discuss these topics and for us it was most interesting to hear what Opera thought about Adobe Flash and where it fits in now and in the future.
Jon S. von Tetzchner, Opera Co-founder and he had some interesting thoughts on Flash as well. During the presentation, we were shown the new video tag (created by Opera) which is part of CSS3, a W3C style sheet language web standard that will soon be supported by many web browsers. This new video tag allows you to write a very simple line of code to add a video to your website. It will come down to the individual browser makers to add support for CSS3 powered video playback, but clearly Opera is behind it in a big way. It remains to be seen how much other browser makers will embrace it, but Opera is eagerly optimistic that it will be embraced heavily as they are fully behind open web standards and this one in particular in a big way - at least that was the impression that we got today.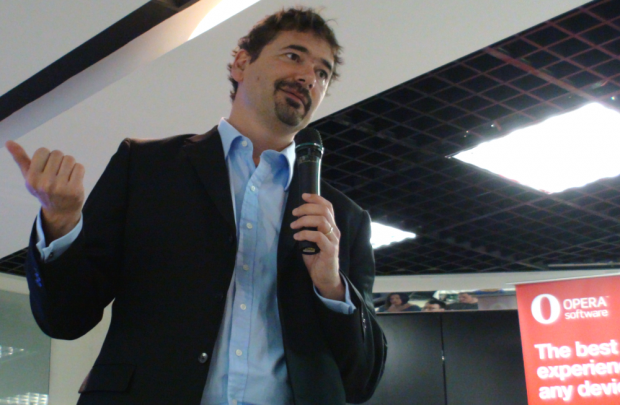 During question time, Mr. Tetzchner went as far to say that, "(for most normal browsing) you don't need Flash." He went on to say that if we think about it, we aren't seeing Flash come up as much as we did in the past and big sites like Facebook use very little Flash and the only time we really need Flash on the web is for videos and ads. Later on after the presentation we asked Mr. Håkon Wium Lie about hardware acceleration support for HD video using the CSS3 video tag and we were told that Opera isn't working with any one company and will instead work closely with all its hardware partners to offer the best solution so that users of its Opera browsers don't even need to think about it.
What does all this mean for Flash then? Immediately it doesn't mean much at all, but in the future if more software companies, web properties and web developers and the like starting using the CSS3 video tag more and more along with the improvements in HTML5, you will most likely see more resources going into improving it and that could mean broader support for web-based video playback on a greater range of devices that traditionally aren't able to or don't run Flash. If you're into web development, this is certainly something to watch.
Update Note -
Mr. Jon S. von Tetzchner is no longer CEO of Opera, he is now listed as Co-founder. This was told to us in Chinese, hence the mistake.
Related Tags